"Lemon & Sugar" are two adorable original characters, namely Lemon-chan and Sugar-kun, created by Lemona Design. They hit Japan by storm with their 4-koma manga, cute merchandise, signature Lemon Candies and huge Deco-Bento fan base. Lemon is a cute little girl who loves to be in love. As the world's first Lemon Ambassador, she spends her days spreading LOVE and LEMON with her best friend Sugar, a fluffy plush toy. Snuggly and full of fun surprises, Sugar is very much in love with Lemon, so everything he does, he does it all for her from the goodness of his heart.
Lemon & Sugar will meet American fans for the first time at Anime Expo this summer! POPJNEO had an opportunity to interview their creator Lemona Design before AX. Make sure to check out what he has to say about the adventure of Lemon and Sugar!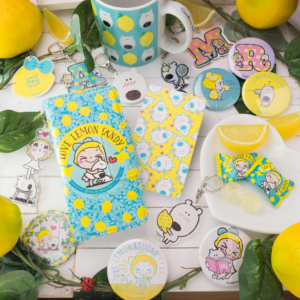 POPJNEO: Thank you very much for taking time to answer our questions. First of all, could you please introduce yourself to the American fans?
LEMONA DESIGN: Hello POPJNEO readers, I am LEMONA DESIGN, the creator of Lemon&Sugar. Lemon and Sugar are two original characters that I created back in 2014. Lemon-chan is a girl falling in love with love, while Sugar-kun is a plush toy; both of them live in a world of sour-sweet flavor. Besides publishing the characters' 4-koma manga and illustrations on SNS and magazines, we collaborate with shops across the country to promote and sell our products, holding events featuring our mascots Lemon and Sugar.
POPJNEO: Lemon and Sugar are so adorable! How did you first come up with the idea of creating them and why did you name them Lemon and Sugar?
LEMONA DESIGN: In the year 2004, I first had the idea of creating a character franchise that would be universally loved by the whole world. During the ten years after that, I was working on the character design.
There are so many cute characters in the world, but most of them would find it hard to remain in people's memory no matter how cute they are. I realized that to make my characters memorable, it takes not only an intriguing concept, but also impressive stories that would be remembered.
Two or more charming characters are needed to make up my stories. I also wanted all my characters in contrast with one another to make the story more interesting. Finally, I designed two characters Lemon and Sugar with contrary features in terms of size of eyes and nose, face shape, as well as variety of facial expressions. Later I came up with the concept of a combination of the sour lemon and sweet sugar for my characters, which I believe could be understood by people in every corner of the world.
POPJNEO: We know that Lemon-chan and Sugar-kun are good friends with different characters. How would you describe the relationship between them?
LEMONA DESIGN: Lemon-chan and Sugar-kun live in a lemon forest. Although they have different appearances and personalities, they are always with each other and get along very well.
Sugar-kun is a plush toy; he came to life one day and the first person he met in his life was Lemon-chan. He fell in love with her.
It's unclear whether Lemon-chan knows Sugar's love for her or not; what we do know is she daydreams about her ideal love all the time. Always at the mercy of tomboy Lemon-chan, Sugar-kun is having a hard time making his affection understood. Sugar-kun can't feel any pain being a plush toy, and his face would recover immediately even if dented inward. However, when Lemon-chan is sad, Sugar-kun would feel pain somewhere his heart. The two friends would make lemonade when they feel sad; making lemonade and sharing with each other renders their mood light and relaxed.
POPJNEO: What do you think is so special about Lemon&Sugar compared with other original characters in the scene?
LEMONA DESIGN: "When life gives you lemons, make lemonade" is the motto of Lemon&Sugar. "Lemon&Sugar" does not only stand for the characters' names, but also suggest the sour-sweetness of love, and ups and downs of life. Life is not all about happiness. Unpleasant things of the sour, lemon flavor happens to everyone. But life shows its value precisely because it is made of both pleasant and unpleasant things, just like both sweet sugar and sour lemon have to be mixed to make delicious lemonade.
"Being able to love your own life means to accept both happiness and sadness in it. "
"The person you could share lemonade (both happiness and sadness) with, must be someone always by your side."
These are the messages I would like to convey through my characters; we also made a short anime video based on them:
(Lyrics)
Happiness comes and goes.
Sadness comes and goes.
Mixed like lemonade, we shine.
We two share the lemonade, tender and kind.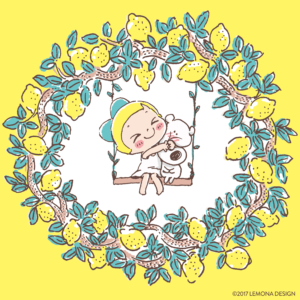 POPJNEO: I checked out some Lemon&Sugar 4-koma manga and I really enjoyed it! Where did you get the inspiration for these cute stories?
LEMONA DESIGN: Since I made the characters with contrary appearances and personalities on purpose, the ideas for their stories always occur to me naturally. Lemon and Sugar are just interacting in the "sour-sweet" life every day.
I am currently depicting their daily life in 4-koma manga and illustrations little by little; but there is still a big idea behind the story that hasn't been revealed yet. I am also planning to reveal other important facts in the story, such as the secret behind the lemon forest where the story is set, why Sugar-kun could move in spite of being a toy, and the encounter of Lemon and Sugar.
From now on, I will work on both picture books and anime featuring stories based on my own experience and new characters based on people I have met in real life.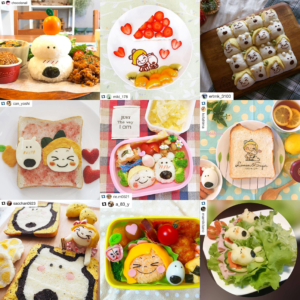 POPJNEO: Can you introduce some of the products and merchandise of Lemon&Sugar that will be shown at Anime Expo 2017? What would you recommend the American fans to check out at the Lemon&Sugar booth?
LEMONA DESIGN: We are happy to bring a variety of items to Anime Expo this time, including paper fans, button badges, key holders, t-shirts, mini-towels, posters, reusable bags, as well as some limited edition merchandise only available at AX. Anime Expo attendees will also get Lemon&Sugar's signature product "Koisuru Lemon Candy" at our booth simply by following our SNS and posting a photo. The candy made of Japan's famous Setouchi lemon is super delicious! I hope you will enjoy the flavor of sour-sweet love!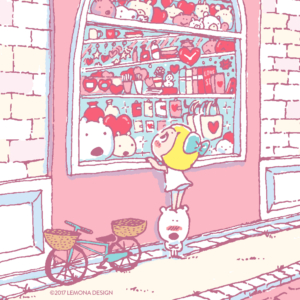 POPJNEO: Lastly, may I ask for a message to all the fans attending Anime Expo this year?
LEMONA DESIGN: I am looking forward to meeting every one of you at Anime Expo! Please enjoy the world of sour-sweetness with Lemon&Sugar!
---
As mentioned in the interview, Lemon&Sugar will bring some exclusive merchandise and gifts for AX attendees. Get a preview below and make sure to check out Lemon&Sugar booth at Anime Expo 2017!
Pins: A free gift with 50$ or more purchase. Available while supplies last. Not for sale.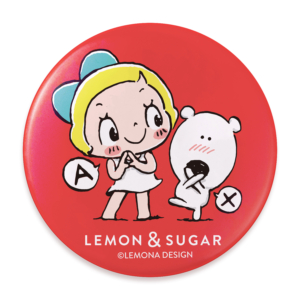 Candy: Earn a free candy when you follow us on our official SNS and post a photo! Not for sale.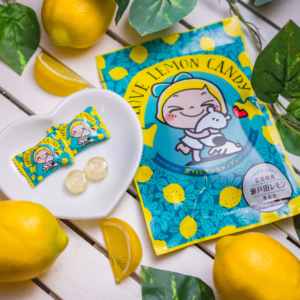 Plush: On sale first at AX2017!
---
**UPDATE**
POPJNEO met Lemon & Sugar at Anime Expo 2017!! Check out some of the pictures at the end of the post that we took at their booth!
---
Lemon&Sugar Links
Official Website: http://lemonsugar.jp/en/
Instagram: https://www.instagram.com/lemonsugar.jp/
Facebook: http://www.facebook.com/lemonsugar.jp/
Twitter: http://twitter.com/lemonsugarjp/
---
Posted by Melissa
Edited by Megumi
Event Photos by Kyoichi