Sekai Manga Senbatsu (World Manga Audition) is now calling one-page manga by artists from Japan and overseas. To apply, residents in Japan simply need to post their manga on Nico Nico Manga, while overseas residents are required to apply through Email. The audition process includes a preliminary audition and a final contest. The final will be conducted during the 5th Japan National Mangaka Conference scheduled in March 2019, in the form of public review by guest manga masters. Sekai Manga Senbatsu is hosted by Manga Oukoku Tosa, in collaboration with Nico Nico Manga and Comic Walker.
Creator of the best manga from the High School Student section will not only be awarded a scholarship, but also an opportunity to attend Manga Koshien, which is held in Kochi prefecture every August.
Details including the theme and judge team for this contest will be announced at the 27th Manga Koshien on Sunday, August 5, as well as the special site for Sekai Manga Senbatsu.
Please stay tuned for further information!
Sekai Manga Senbatsu Special Site
English:
https://site.nicovideo.jp/seiga/mangasenbatsu/english/
---
About the 27th Manga Koshien
Event Date: Saturday, August 4 and Sunday, August 5
Website:
http://mangaoukoku-tosa.jp/manga-koshien/
The 27th Manga Koshien features 30 high school teams from Japan and 3 from abroad who have passed the preliminary contest held on June 22. They will fight for No.1 with their one-page manga. Manga artists Kobayashi Toshihiko (author of Pasuteru) and Kuze Gaku (author of Torimania) will work as guest judges for this competition.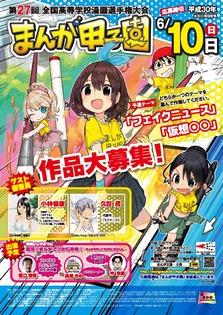 Besides the manga contest among the above-mentioned school teams, Manga Koshien also has the following events that anyone is welcome to join.
(1) Special Symposium "Job Hunting! Use Manga to Seize Your Future"
Time: August 4, 11:30~13:00
Guests including producer of Final Fantasy, Sakaguchi Hironobu; illustrator Takahashi Kino; and the editor in chief of Weekly Famitsu, Hayashi Katsuhiko will attend the symposium, giving suggestions to those high schools students who are considering about their life after learning manga.
(2) Editorial Department Onsite
Time: August 4, 9:30~18:00 and August 5, 9:00~18:00
An editorial department booth will be set up onsite for anyone to visit with their manga works.
Every editorial department may have different rules and schedule for visitors, so please make sure to check the event website beforehand.
---
Posted by Melissa