It's been a year since the last AX concert. How was your year?
Yuko: When I try to remember, I feel like "Wait, what have I done?" It's because it's been a whirlwind year for us. Firstly, we performed at Nippon Budokan, which had been set as one of our goals. Since we have 8 members, it's pretty hard to unite all our expression. But we are very satisfied with the result at Nippon Budokan. Then, we had our second Japan tour. After that, we tried a solo concert in New York in March, and we joined a festival called South by Southwest in Austin, TX. Furthermore, we had a 2days solo concert in Taiwan twice during the past year. Finally, our songs have been chosen for an anime theme song and Rio Olympic theme song in Japan. I feel that the opportunity to perform in overseas increased, and we have gotten recognition gradually.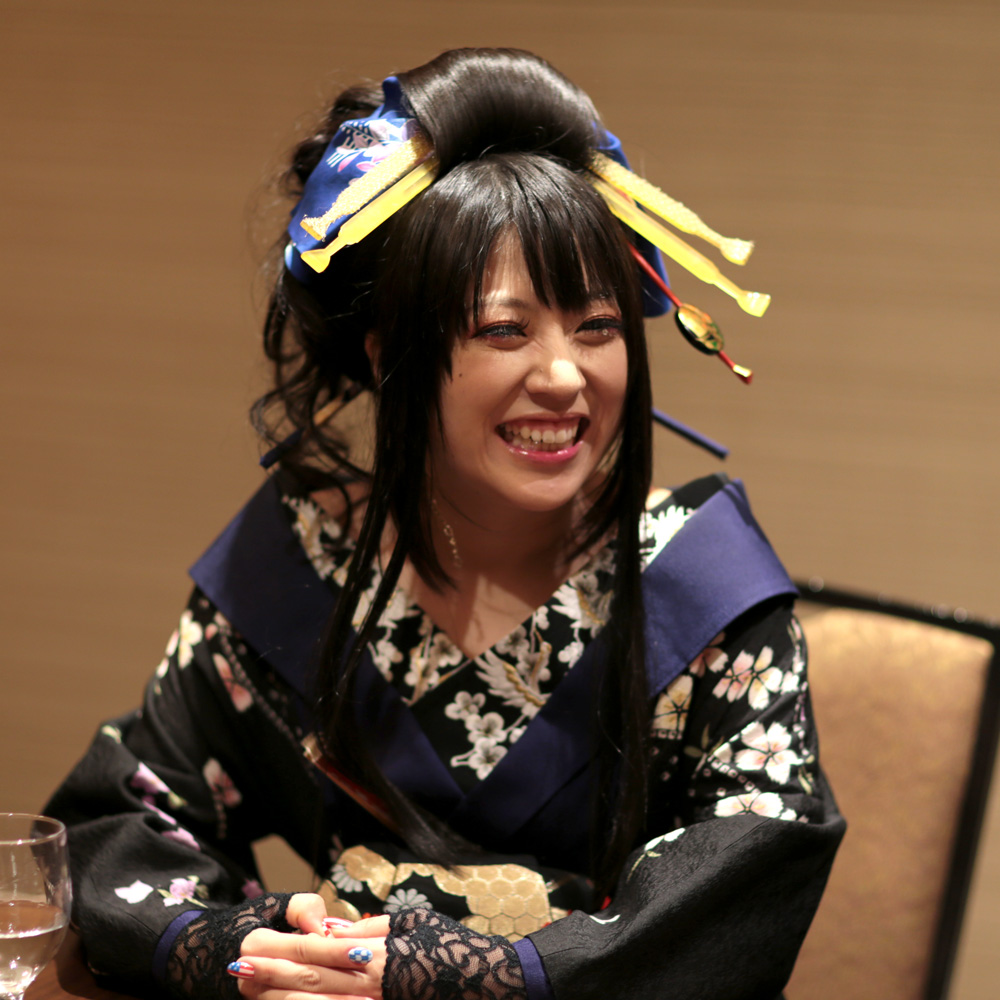 I saw the news saying that you guys performed the collaboration of wadaiko and sword dance for Dai Shinnenkai 2016 at Nippon Budokan. Are we able to see that this time?
Yuko: Actually, we will do it! We want to show the audience what we performed in Japan tour.
It's based on a story called Tono Monogatari. We will show my sword dance and Kurona's wadaiko together, and Machiya's guitar playing will be combined with that. Please look forward to it.
Kurona: We want to show a performance that only we can do.
How was the performance at Nikko Toshogu and its five-storey pagoda? I think it's a new challenge to perform the mixed music of rock and traditional.
Yuko: I thought it's a great honor when we got an offer to perform at the world heritage site. Then I was wondering how we could perform.
Beni: So we all carefully considered the set list. It's a special and sacred place. We wanted to show our rock element, but at the same time, we wanted to show our traditional Japanese music element as well. We had to mix both elements well.
Yuko: I was worried about the weather as well, because it was a rainy season at that time. When I looked up for the last 10 years weather, I found out that it was rainy on the date every year. However, it didn't rain on the days we performed. I felt some kind of power. I cannot forget how I felt when I sang in the trees that have grown for many years.
Was it different from other places?
Yuko: It was mystical.
Beni: It's stopped raining before we started singing. Then it became foggy, there was a five-storey pagoda next to us, it was very wondrous.
Interviewer: I guess it was better than you expected.
Yuko: Yes, I felt very good.
Kurona: I felt very good, too. There were a lot of trees so our sound echoed. Of course we used microphones, but the sound of our instruments echoed through the trees. Our performance started in the early evening, and it's getting dark, then lights looked wondrous. I think the audience enjoyed it, but we also could enjoy it.
Congratulations for your song being chosen as a Rio Olympic theme song for Japanese TV station.
All members: Thank you.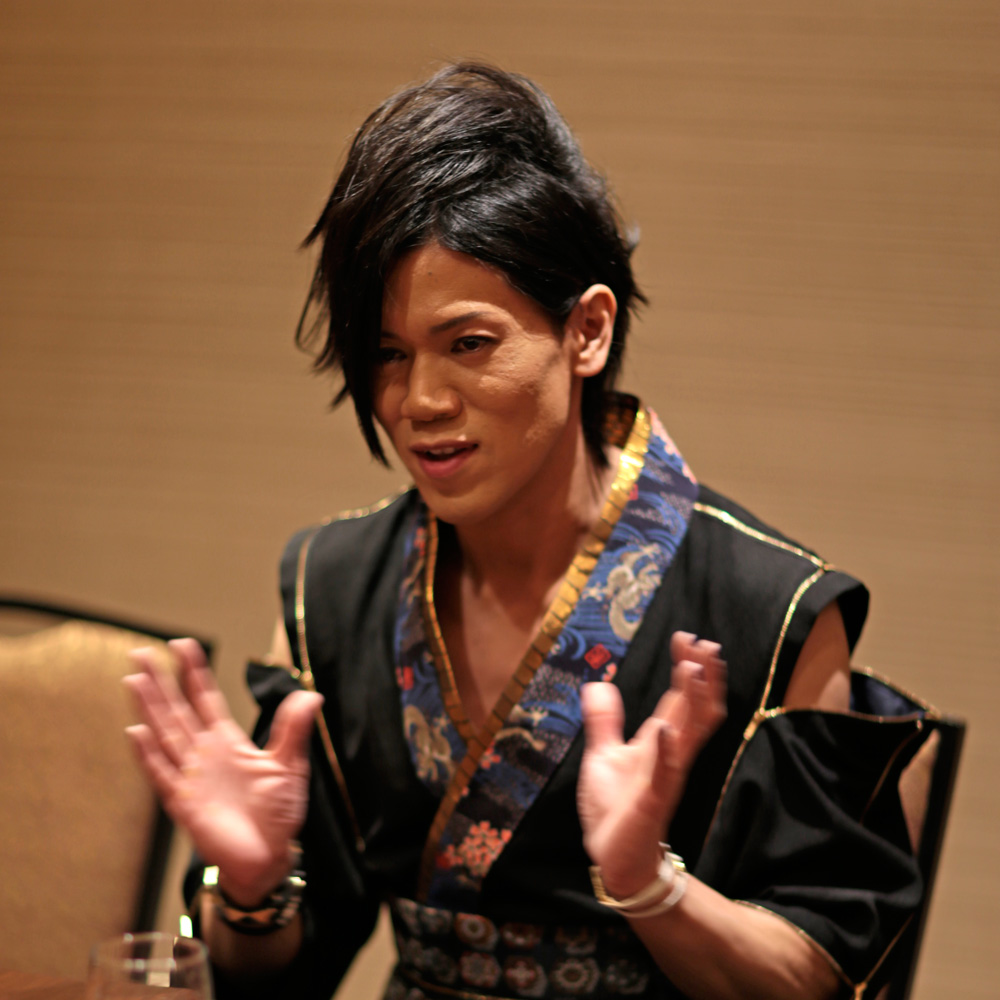 I heard the song "Kishi Kaisei" would be released as a music video instead of a single CD, can you give us any idea of it?
Kurona: I think athletes spend enormous amounts of time until they get the results. The time must be very hard, difficult, and anxious. I wanted to encourage them by our music. Everyone who listens to music also might have something to worry about, everyone has something. When you are depressed, or when you had a bad day, I hope our song will help you to move forward. It's like a fight song, so the lyrics are easy to understand. The song consists of Japanese rhythm such as Japanese festival ensembles、Japanese festival flute, and Sanbon-jime(ceremonial rhythmic hand clapping). We use the Sanbon-jime at the beginning and end of the song. Everyone in Japan knows this rhythm, but for people overseas, it must be curious and interesting. Everyone can start the Sanbon-jime at the same time even if there are hundreds of people. I think it's unique. The song is a combination of rock and Japanese traditional music, and it matches with the concept of the Olympic.
Yuko: The reason we will release it as a music video is that the visual image is magnificent. 100 extra performers participated in this music video. Please enjoy watching our dance moves and Sanbon- jime, and learn how to do them. "Kishi Kaisei" is a powerful rock song, which we always play, and it cheers you up. "Mirai" is a medium ballad song, so these two songs are very different.
Interviwer: We can enjoy both.
Kurona: Yes, they both are fight songs, so please listen according to your mood.
Yuko: I made a song "Mirai". Athletes don't always have good results. Sometimes they lose even though they made so much effort. When I look back at my past, I had the same experience. I though that music contests and sport matches are very similar. This song was made for people who have many possibilities for the future.
Interviewer: I look forward to listening to it.
Yuko: We will perform the "Kisi Kaisei" at this concert. We're going to show how to do Sanbon-jime in English.
I think Wagakki band will debut in various countries from now. Which country would you like to visit?
Yuko: We've been to France for the Japan Expo before. It's the only country that we visited in Europe. I really want to go to Germany, because one of our members went to Germany to hold a concert and told me the experience. Then I was wondering what would happen if we played in Germany. I have learned classical piano for a long time. My professor told me that I was suited for playing German songs. I also took a German language class, so I feel some kind of connection.
Kurona: I've been to many countries as a Japanese traditional instrument player. As a Wagakki band, I want to go to Czech. I think its atmosphere would match Wagakki band. Personally, I want to visit some African countries. They play percussion instruments with their hearts, so I want to have a music battle with them.
Beni: The United States was the new challenge for us. I want to go to South America next, maybe Brazil or some Spanish speaking countries. Latin rhythm is used for their music, so people may like a wadaiko drum battle. "Kishi Kaisei" adopted some samba elements. South America is a huge continent, it would be really fun if we got popular there.
Yuko: The other day, we talked about going to Asian countries. We want to visit Indonesia, Singapore, Malaysia, and so on. I am thinking about singing in a language of one of Asia countries. The language matches with the unique melody of shigin (reciting poetry).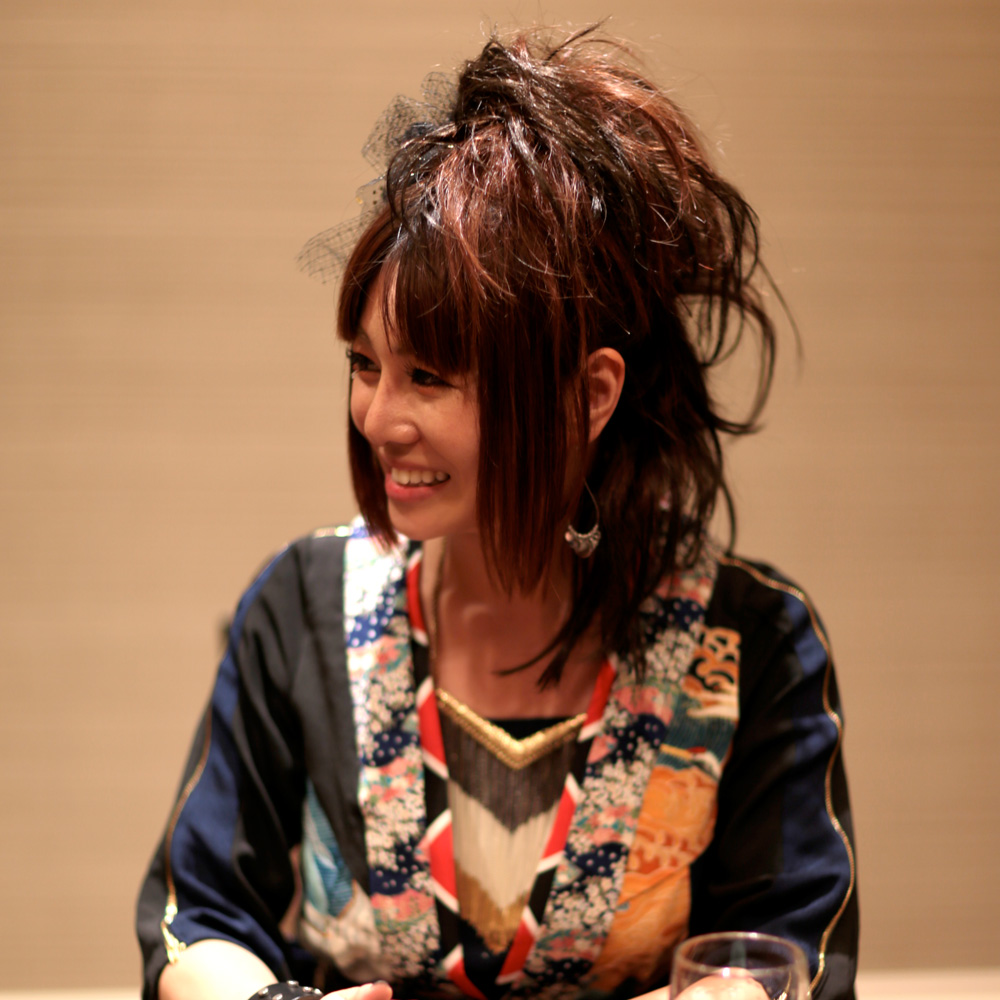 You guys are going to perform in Los Angeles, San Diego, and San Francisco. How do you feel about that?
Beni: This is the second time performing in Los Angeles. The last time we performed, the audience was initially watching us to see how it goes. Then the concert gradually livened up, and finally everyone was having fun. So I'm so excited this time. Some people may know us already, and others may come to see us for the first time. We are going to try new things so I look forward to see the reaction form the audience. I hope we get more fans in San Diego and San Francisco, and I also hope we will hold a concert many times in the future.
Kurona: Even in Japan, audience reaction is different depend on where they live. I'm excited to see the difference between San Diego and San Francisco.
Interviewer: Is there any difference in audience reaction between New York and Texas?
Yuko: It was totally different. To be honest, I was nervous in New York the most. New York is a mecca of entertainment, so I wanted to get over it. Now I'm so excited to perform in Los Angeles since this is the second time. We'll perform in San Diego and San Francisco for the first time, I feel more excited than nervous.
I'm sticking to singing in Japanese. I thought about singing in English before. But when I try to sing in English, it's really hard to express words with the unique shigin melody. I was struggling, but I realized that I should sing in Japanese to express the beautiful melody even thought many people don't understand the Japanese language. I can amuse the audience with our sound and dance. As a result, people in New York accepted our style. I will be positive for this tour.
Kurona: When I was young, I listened to English songs and learned English. I want people to listen to Wagakki band's music and its instrumental sounds to learn Japanese culture. I also want to show kimono. I think it's very important to sing in Japanese. When we play "Senbon Sakura," everyone stars singing in Japanese. I hope our music will be the opportunity to learn Japanese culture, and I want people to know the meaning of our lyrics to know Japan more. I'm so excited to perform in San Diego and San Francisco.
---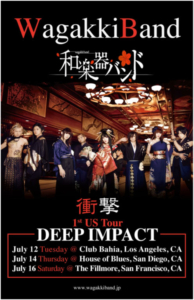 The tickets will be On Sale on May 20th at the following site:
July 12th
Los Angeles – Club Bahia
July 14th
San Diego – House of Blues
July 16th
San Francisco – The Fillmore
---
WagakkiBand Online:
Senbonzakura https://youtu.be/K_xTet06SUo
Official Website http://wagakkiband.jp/wagae/
Facebook https://www.facebook.com/WagakkiBand

---
Posted by Megumi
Photos by Kyoichi