"I love Japan. That's why I'd like to introduce Japanese art and culture to the world."
Ibuki answered the question, in a tone close to murmuring, with a very special look in her eyes.
When asked "what do you recall the most about Japan while visiting in the US", Ibuki's gestures, facial expressions and look left a particularly strong impression on us during the 1-hour-or-so interview.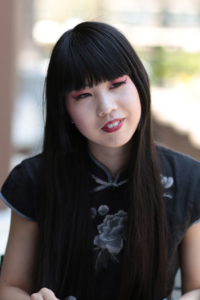 "I went on a trip with my aunt," recalled Ibuki, her eyes having a faraway look.
"We travelled to Izu and watched a Takigi Noh play at night. The noh stage was set up upon a river, surrounded by burning torches. I watched a play called "Tsuchigumo" in a space filled with the divine nature of water and fire. The atmosphere was so mysterious that I danced with my eyes and heart while watching the show. I could never forget about that night. The subtle and sophisticated worldview exclusive to Japan. Through my art, I would like to express the uniqueness of Japan overseas."
Ibuki was born in Gunma, Japan in 1990. It was the end of summer according to a calendar, but the summer heat was still lingering. Growing up surrounded by the nature-rich mountains and fields there, she got to feel and understand, with her skin and mind, the spiritual world that resembles the one expressed through those famous Japanese anime movies.
However, the place that transformed her rich sensibility into a clear goal of art was not where she was born, but instead, the "Silk Road" depicted by Ikuo Hirayama, which she saw during a trip to Nara, ancient capital of Japan in 2002.
「It felt like the blurry scenery came into focus all of a sudden. It was a huge shock to me, as if my eyeballs, which could have been watching or not, suddenly got to recognize the scenery in front of me. The impact was so overwhelming that I was even unable to grasp its nature and lost sight of it immediately; only the dream, though vague and unsettled at that time, of becoming an artist, remained deeply engraved in my mind.」
Years later, Ibuki started to work actively in the Tokyo market to further chase her dream. In 2015, she visited Nara again and viewed the 13-piece wall painting, "Wall Painting of the West of the Great Tang " by Hirayama, decorated in the famous Yakushiji Temple.
"Through the work which is 49 meters long and took Mr. Hirayama 30 year to complete, I felt the motif of death and soul of life. I embraced the painting thanks to the nostalgic experience. At that moment, I wished I could charge my own works with the same soul."
When asked if she had any other artistic or musical influences besides Ikuo Hirayama, she answered, "when I was in high school, I was obsessed with the kind of manga categorized as a 'subculture', such as the manga by Yoshiharu Tsuge and Suehiro Maruo. As to music, there was a time when I fell for metal. I found myself attracted to such things as the underground, challenging spirit. When it comes to the artists that have influenced my works, they include William Blake, Beardsley, Kyosai Kawanabe and etc."
Ibuki perceives spirits from a myriad of things, hoping to express what she feels through calligraphy and dance. To the question whether she has any particular way of calling her art events such as live painting or ink drawing, she said, "I have no specific way of calling them or even hopes as such. To me, all of them are no more than a way of expressing myself and a form of work."
The long-established Japanese Shintoism and the body of a mother produce milk from blood. The dark redness of blood turns into white, suggesting the beginning and life.
On the contrary, the black color represents the end of everything and death.
Life, death, and the eroticism made up of both. Ibuki needs merely 1 hour to showcase the interval between a man's birth and death. It might sound incredible but an encapsulated life could actually be performed in such short time, couldn't it.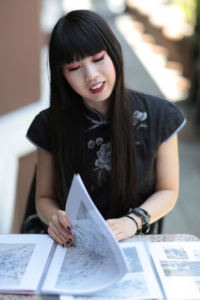 According Ibuki, she is doing a research on the way of living of people that interest her.
"I am very interested in the first Asian actress to gain recognition in Hollywood, Anna May Wong. From her pictures, I could feel her beautiful and dignified faith that takes pride in her own race and keeps on fighting. I could also tell that she always kept an image of being special and unique."
Ibuki feels immensely attracted to those women who live against the mainstream of the time.
Touring all over the world, Ibuki puts on shows without reservation and endeavors to expand her portfolio. More often than not, her activities take place in metropolises, in front of large audiences.
So far she has collaborated with quite a few musicians, dancers, models and calligraphers to enliven her works with a soul. As an artist who delivers both the infinity and the end of existence, there are also times when she could not help but find herself lonely and adrift.
In fact, right before her Paris show, while travelling on a moving bus, a Japanese enka started to play in her head.
"'At the corner of a guardhouse buried under snow/ I stayed up all night cooking rice.' This is a line from an enka called Ishikari banka. When I was humming the song in the Paris landscape, I kept thinking, how expressive it is, how deep the emotions are. The inherent emotions of Japan and their expressions. I think it is exclusive to Japan to make "tolerance" and "meditation" reflect beauty. I would like to make my works reflect these emotions as well. Although from the eyes of the world, Japanese culture seems different in many ways, it makes me love Japan so much."
Despite the bright sunlight of California, for one second, the aura surrounding her body appeared as if it froze into ice. I suppose it could have been a result of her cool smile.
We sincerely look forward to Ibuki's future activities!
---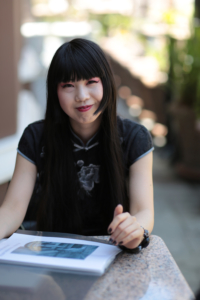 Ibuki Kuramochi
Inspired by Ikuo Hirayama's Silk Road series that she saw as a child, Ibuki was determined to become a painter.
Ibuki produces various forms of works focused on the primordial form of life and eroticism.
Works that express the Japanese-style aesthetic and religious views are created by captivating "lines".
In the monochrome world depicting nothingness and existence, death and life, organic and inorganic substances, such impermanence is always the idea delivered.
After exhibiting works in Sydney and Italy, Ibuki successfully performed at Japan Expo in France on 6 stages, both solo and in collaboration with Shamisen and calligraphy.
She also incorporates Butoh (dance)-painting, which combines Butoh and live painting, in her performances. She embarked on a performance tour in Paris in April, 2017, which coincided with a local one-man exhibition.
In Septermber, 2017, Little MOCA Gallery in Taipei, Taiwan played host to Ibuki's solo exhibition.
Ibuki is also actively exploring a wide range of fields including but not limited to, original design of tights, stage design, and music video appearance. A painter and performer, she is a multi-artist of diverse expressions.
Website:
http://www.ibuki-kuramochi.com
Instagram:
https://www.instagram.com/ibuki_kuramochi/
Facebook:
https://www.facebook.com/ibuki.kuramochi

Youtube:




---
Please click here to see Japanese version.
Posted by Meg