For most J-Anime fans, SID might come off as a pop music group renowned for their successful tie-ups with such titles as Fullmetal Alchemist and BLEACH; "Uso", "Rain" and "Ranbu no Melody" are taken as their most important works more often than not. However, die-hard fans, conversant with the other side of SID, had never stopped dreaming of an opportunity to revisit the band's hit songs back in their earlier days, to relive their raw energy and haunting beauty again years later.
Fortunately, their love did not let them down. SID's 15th Anniversary LIVE HOUSE TOUR 2018 was indeed a dream come true to reward fans' huge support and long wait. SID, the most beloved Visual Kei band representing the major music scene (as opposed to most VK bands signed to indie labels), much to our surprise, chose to perform some of their earliest and indie-era songs at the two final shows of this massive Japan tour, to celebrate the 15th Anniversary of SID's legend. Under the title "Showa Popular Songs Only" and "Indie Songs Only", respectively, the heated nights of June 27 and 28 at Toyosu PIT, Tokyo defined the word "stunning" and "magical" for a concert, not only in terms of visual and audio presence, but also the rich emotion that the band has always endeavored to deliver. Personally, the experience at both concerts was spellbinding in a different way from a regular J-rock show. For one reason, it was truly rare for a Tokyo Dome headliner like SID to have gigs at an intimate venue, making the interaction between the band and fans exceptionally precious and touching.  For another, since SID has been active for 15 years with the same line-up, it was quite a spectacle just to watch the members joking and reacting to one another playfully on stage. Having gone through 15 years of happiness and bitterness together, I suppose the members must have already considered themselves a family, and their lives inextricable.
The first-day "Showa Popular Songs Only" Live featured music reminiscent of the Showa-period Japan. The show had a well-rounded set list that intermixed SID's classic sentimental numbers from early albums such as Renai, recent works such as "Koi ni ochite" and a cover song "Kasa ga nai" originally by Inoue Yosui. Although the woeful Showa theme would somehow evoke inertia of the audience, it by no means got in the way of SID's power to turn the crowd into excitement. Following the grand entrance of 4 captivating members, the packed venue got immediately hyped up at the introduction of "Ajisai", lead track of SID's first album. Bassist Aki and drummer Yuya provided solid pounding rhythm to this signature tune, while guitarist Shinji, who penned this ballad, did a superb job enriching its dynamic with powerful riffs and ethereal guitar solo. Mao's voice is the trademark, and no doubt soul of the band. Apparently our front man understood how to utilize his voice and impress old and new fans alike. Interweaved with the poetic lyrics of "Ajisai" about the breakup of a complicated relationship, Mao's vocal sounded so enchanting that the entire space was almost rendered surreal.
The band then proceeded to play several other fans' favorites off their "Showa" portfolio, "Doyoubi no onna", "Ringoame" and "Owakare no uta", in response to the crowd's enthusiasm. "Owakare no uta", which translates into "the song of departure", gave off more than the impression of a typical sad breakup tune when Mao put on his radiant smile and beckoned the audience to have fun with him. His band mates also seemed to be enjoying themselves playing these beautiful melodies created over ten years ago. Shinji showed might on guitar by alternating between his electric and acoustic instruments, against the heavy, resonant bass lines by Aki, which introduced another layer of sophistication to the Showa ambiance.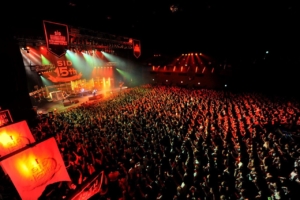 The Showa vibe continued with "Chiisana Shiawase", "Watashi wa ame" and "Ao". Flawlessly shifting from his normal register to the high-pitched vibrato, Mao fleshed out every single word in the lyrics and completely overwhelmed his worshipers, leaving everyone breathless and entranced at the spectacle on stage. Fans were also lucky enough to hear the album version of "Ao" live with Mao's singing a cappella skillfully at the beginning. As the iridescent beams of light radiated and interweaved across the venue, the connection between fans and the band, which persisted over 15 years, felt so intense that it was almost tangible. Once again, the night reinscribed the significance of Showa ballads to SID as well as everyone they have influenced.
As much as we love the sentimental world conceived by SID, they did much better than a pop band that only makes tear jerkers. Their sound is meant to move you to tears of sorrow, as much as stir you to delirium of joy. Keeping a nice balance between ballads and high tempos, the band inserted an aggressive number "Virtual bansankai" into the first half of the show to warm up the crowd for later, when they would whip the crowd into a frenzy. After a brief MC session, SID transformed into a disruptive rock band at the drop of a hat, setting the stage ablaze with "Junkan". The band stirred up hysteria that reverberated through every corner of the venue, consecutively beating off addicting numbers such as "Mousounikki", "Rinjin," and "Akagamishafo". While performing these songs, the band shared an incredibly giant cathartic experience with the audience. The crowd became frantic, pumping their fists in the air, jumping, and dancing without reservation. Members could barely contain their excitement either. Shinji and Aki ran across the stage several times to stimulate their devoted followers to cheer even louder. As if the space was not heated enough, Mao even dived into the crowd to stir up the already enchanted fans.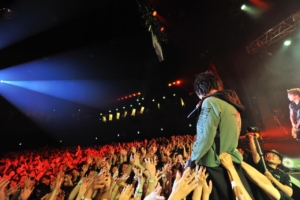 Before calling it a night, SID performed a few more songs for encore, including the cover song "Kasa ga nai", "Alibai", "Koi ni ochite" and even an extra encore "Natsukoi" which was not part of the original setlist. The Showa themed live was a cornucopia of pleasures. It brought back the memories when SID was still a fresh face in the Visual Kei scene and helped people realize how far and well the band had gone now. Mao made an epic remark on this: "I believe you guys know more about SID than us. We've been playing these Showa-style tunes since long ago, and we will still continue playing them in 16, 17, 20 and even 30 years from now, so please continue supporting us!"
The second night titled "Indie Songs Only" Live, except for the three songs shared with the previous day ("Alibai", "Junkan" and "Natsukoi"), showcased a new list of songs that highlighted the sexy and seductive persona of SID. The band also had their stage attire designed with an indie twist on purpose, according to Mao, to relive their looks back in the old days. If the night before was an emotional gathering of old friends, this night was nothing but an exuberant carnival. With tracks like "Mitsuyubi", "Noirooze party","Yuukan Collection", and "Memai", SID commanded the crowd like a mischievous siren that no one could resist. Every word that Mao chanted was like a spell cast on the crowd, seducing everyone to play, dance and laugh to the music before they knew it. As for other members, I bet the audience in the front captured a wonderful view of their sexiness while performing in a sweat. Mao mentioned that "Noirooze party" was quite special because it was the only song where other members' voices got to be heard as well, which explains why he stretched his arms in delight towards Shinji and Aki when singing it.
The night also covered a series of SID's classic ballads from later years of their indie era, including "Sono Daishou", "Hosoikoe" and "Hanabira". After finishing off the three songs at one go, the band took a brief break, and Mao, once again, expressed how important being able to nail ballads means to him and the band. If he failed to perform a ballad well, said Mao, the entire performance would be ruined. A professional singer and a rock band front man, Mao never forgets to stick close to his roots, where he started nearly 2 decades ago.
Other members also shared their experience being part of SID. Yuya recalled, "15 years is hella long, isn't it? It's long enough for a 15-year old to turn 30! We used to talk about trendy stuff when we were younger but recently our conversation is all about health and what's good for health. LOL. " Shinji, on the other hand, was quite a salesman selling the merchandise of Yuru Chara "Negippi", designed based on his favorite food green onion. When he pulled his favorite medicine Ohta's Isan out of the Negippi pouch, the entire venue burst out laughing. After the encore, all four members expressed their gratitude to the fellow members and their fans for the past 15 years, and left the stage in thunderous cheers and applause.
It's never easy to live up to the reputation but SID never disappoints those who love them. The two consecutive nights at Toyosu PIT served as a convincing testimony to the band's dominance in the current J-rock scene. When more and more musicians are running out of gimmicks to turn the stage into a flamboyant circus show, SID keeps gaining popularity with their timeless sound and down-to-earth personality. We have every confidence that the 15th anniversary means a new beginning to this legendary band, and that the 4 talented men will never stop exploring new frontiers. Best wishes to SID and CONGRATULATIONS!
---
Setlist: June 27, Showa Popular Songs Only Live 
Ajisai
Doyoubi no onna
Ringoame
Owakare no uta
Virtual bansankai
Chiisana shiawase
Watashi wa ame
Ao
Junkan
Mousounikki
Mousounikki 2
Rinjin
Akagamishafo
EN-1. Kasa ga nai
EN-2. Koi ni ochite
EN-3. Wana
EN-4. Alibai
EN-5. Natsukoi
EN-6. Kara no binsen sora eno tegami 
---
Setlist: June 28, Indie Songs Only Live
Alibai
Mitsuyubi
Shutter Speed
and boyfriend
Re:Dreamer
Sono daishou
Hosoikoe
Hanabira
Noirooze party
Yuukan Collection
Propose
Junkan
Dekisokonai
Yoshigaimanabu Juunanasai (Mushoku)
EN-1. live
EN-2. Natsukoi
EN-3. Dear Tokyo
EN-4. Memai
---
---
Photo Credit: MAVERICK DC GROUP
Posted by Melissa