DIR EN GREY announced that they will live-stream their documentary style performance. They will also stream a no audience concert.
​They will live-stream on Saturday, March 28th, 2020 on their official YouTube channel.
DIR EN GREY, who just announced the postponement of first 4 dates of Japan concerts titled "TOUR20 SOGAI", will host the show at KT Zepp Yokohama. The show called "The World You Live In" will be live-streaming for 6 hours from 2:30 PM on March 28th, 2020 on official DIR EN GREY YouTube channel.
According to the official announcement at present, the camera crew will follow the DIR EN GREY members from 2:30 PM. Until the concert starts at 7PM, the members will be shot in a documentary style, and it contains their talk segment. The DIR EN GREY no audience uncut concert at 7 PM will be live-streaming to the entire world. The concert will be performed with complete equipment and images like their real concert.
As soon as they made an official announcement, the official website received great response on social media from all over the world, and fans are expressing excitement.
You can watch DIR EN GREY SPECIAL LIVE STREAMING "The World You Live In" for free on YouTube.
DIR EN GREY
The World You Live In
DATE: Saturday, March 28th, at 2:30 PM – 8:30 PM (expected)
PLACE: DIR EN GREY Official YouTube Channel
https://www.youtube.com/user/direngreyweb
Contents
2:30 PM – Documentary
7:00 PM – Concert (no audience)
Talk MC
SEXX GEORGE (LADIESROOM)
Commentator
Yuichi Masuda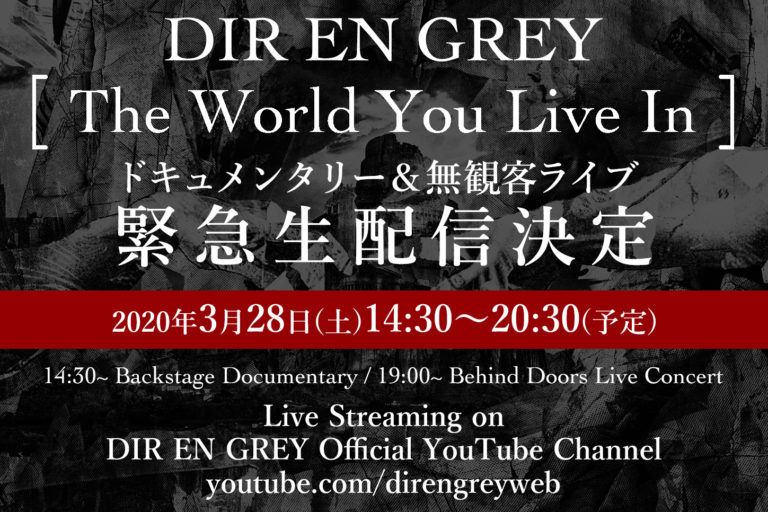 【DIR EN GREY official social media accounts】
http://direngrey.co.jp/
Twitter: @DIRENGREY_JP