The Lethal Weapons first ever group (?) to perform ONLINE LIVE with "Street Fighter II" background!!!
(full backup from Capcom)
The duo from Japan, "The Lethal Weapons" are known for using 1980s-1990s culture as their theme for visual and music will be having an online live using the game visuals as background from the phenomenal
Capcom game,"Street Fighter II"
They had released a song "Shoryuken Doesn't Come Out" with them singing about the game details which started relations with Capcom.
The Lethal Weapons announced on their official website that they would have to cancel their performance of "Kizudarake no Hangaku Strike!" at Osaka's Misono Universe on September 11, 2020 in order to prevent the spread of the corona virus.
As an alternative live performance, "Shin no one-man e no michi wa Mada Toi…Haishin Aru Nomi!" will be held on the same day instead.
The stage will be Street Fighter II stages and will be broadcast live on YouTube free of charge! This live performance will be held with full backup by the Street Fighter Development Team.
Comments from the members:
Ai-kid
"I'm really sorry that the live concert was cancelled, but the real thrill of Street Fighter II is to make effective use of the cancellation and lead to a deadly counter attack for the win. Please look forward to our escape from the brink of death with a killer Shoryuken!
Cyborg Joe
"I'm sad that the live show will be canceled, but it's like a dream to be able to perform in the 'Street Fighter II' game! The Singularity is finally here! Plus, it's free for everyone. So check it out without hesitation or regret!"
---
Formed in January of 2019 this duo of U.S.A born "Cyborg Joe" and his producer "Ai-kid" delivers 80s-90s themed visuals and music to the world.
Spreading their entertainment through YouTube from a small district in rock chart. Their first live at the end of 2019 at Ebisu Liquidroom (cap800) was instantly sold out and E.P released in Feb 2020 "E.P." also landed #1 on the iTunes rock chart. 
They made their major debut in August 2020.  
The Lethal Weapons Offcial
Twitter
YouTube
Official HP
---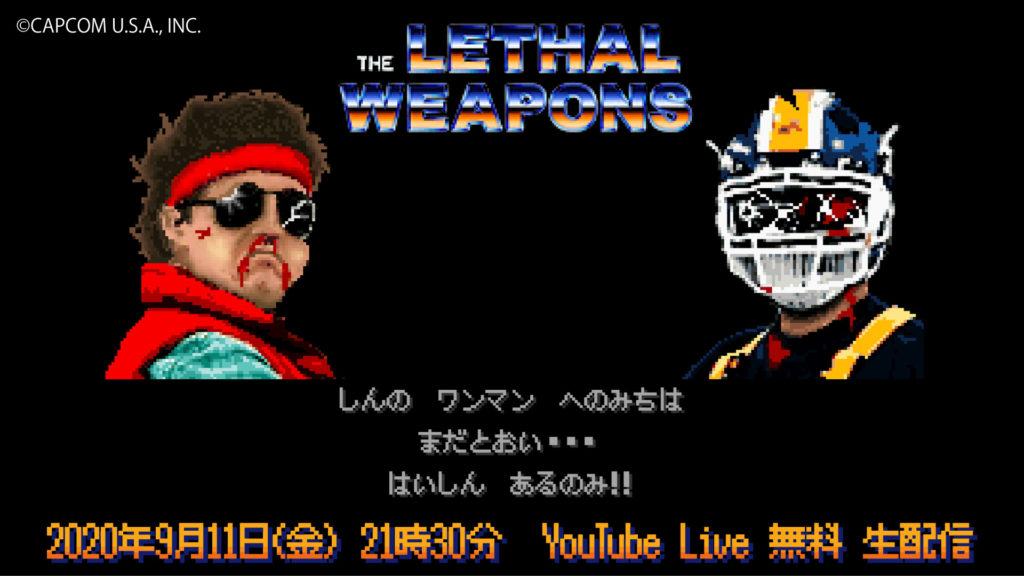 [Live Summary]
Title: "Shin no One-Man e no Michi wa Mada Toi・・・Haishin Nomi!"
Date: Friday, September 11, 2020
Time: 21:30 Japan Standard Time
Price: Free
Channel registration here
---