PORNOGRAFFITTI's first ever overseas headliner show will take place on Saturday, July 6 at Club Nokia.
PORNOGRAFFITTI will be participating as Guests of Honor at Anime Expo 2013 in Los Angeles which will be taking place July 4 ~7.
To mark this special occasion, PORNOGRAFFITTI will be digitally releasing two of their "best" albums, "PORNO GRAFFITTI BEST RED'S" and "PORNO GRAFFITTI BEST BLUE'S" in the U.S.
Widely recognized to the U.S. fanbase for their tie-ins with several anime series, fans who attend their concert will no doubt be in for a spectacular show!
Date: July 4~ 7, 2013
Convention Venue: Los Angeles Convention Center
Concert Date and Venue: Saturday,July 6th, Club Nokia
For ticket information and updates, visit the Anime Expo 2013 website www.anime-expo.org
(concert tickets will be available for Anime Expo 2013 attendees only)
[About PORNOGRAFFITTI]
PORNOGRAFFITTI debuted with the song "Apollo" in 1999. Widely recognized for their ground-breaking music, the duo released their follow-up single "Music Hour" in July 2000 which turned out to be one of the hottest songs that summer and their following singles "Saudade" followed by "Saboten" both sold over a million copies in Japan.
The rock band has produced many hits such as "Melissa" (opening song for the anime series Full Metal Alchemist), "Hitori no Yoru" (opening song for the anime series GTO) with several tie ups with anime, movies and TV shows.
Throughout their career, they have continually produced multiple hit singles, albums as well as sold-out stadium shows and record-setting tours.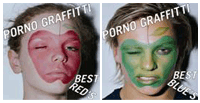 PORNOGRAFFITTI official site
http://www.pornograffitti.jp/
(Press / Sony Music Entertainment)