Voice actor Gakuto Kajiwara, who plays leading roles in multiple top anime shows, released his first ever mini-album "Doko ka no Kimi ni" on October 20, 2021. Now he has announced that he will follow the release with his debut solo concert, which will be held on his birthday: Sunday, November 28, 2021. The concert will be broadcast on livestreaming platform Zaiko and available to view from all around the world.
While the mini-album's title translates roughly as 'To You, Wherever You Are', the concert is titled 1st ONE MAN LIVE "Koko ni iru Kimi ni", which means 'To You, Right Here' – fitting perfectly with the themes of the mini-album.
Kajiwara commented, "This is a collection of songs that shine when you hear them for yourself in a live setting. I hope to be able to touch the audience deep inside and leave something behind."
Streaming tickets are on sale now from the link below. The concert will be held on November 28, from 14:30 Japan Standard Time, which is 21:30 on November 27 Pacific Time. Click below for tickets and further information, including the full schedule.
Gakuto Kajiwara – 1st ONE MAN LIVE "Koko ni iru Kimi ni": LINK
---
About Gakuto Kajiwara
Originally from Osaka, Gakuto Kajiwara is a voice actor well known for portraying lively characters including Asta in 'Black Clover', Shinra Kusakabe in 'Fire Force' and Hiro Ryugasaki in 'Shadowverse'. Most recently, he has been voicing Hitohito Tadano in 'Komi Can't Communicate'. Kajiwara has also appeared in various music-related works such as the role of Hiiro Amagi in 'Ensemble Stars!!' and Allen Sugasano in 'Paradox Live'. He was awarded Best New Actor in the 14th Seiyu Awards in 2020.
Having been exposed to music from a young age, Kajiwara made his artist debut in November 2020. His first single 'A Walk' was used as an ending theme for 'Black Clover'. He released his first mini-album on October 20, 2021, and he will hold his first solo concert on November 28, which will be livestreamed worldwide for all his fans to enjoy.
---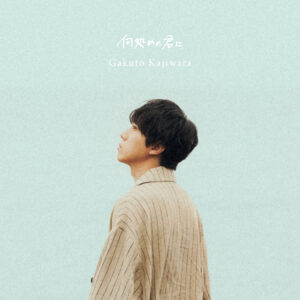 1st mini-album "Doko ka no Kimi ni"
Download and streaming links:
AWA
Apple Music
iTunes Store
Spotify
Amazon Music
---
Website
Twitter
YouTube
Instagram
TikTok
---