Silver hair is becoming popular because of celebrities and Anime characters recently. Silver hair looks more sophisticated and earnest than blonde hair, maybe that's why it became a fad!?
Usually, you have to bleach when you want to get blonde hair. So your hair get damaged and it's hard to get back black hair. However, this product is easy to rinse off so you can easily change your hair color.
Color Fox Wax Silver that hair wax, hair color cream, and hair conditioner are put into one were released November 25th, 2015. You can change your hair color while styling your hair.
---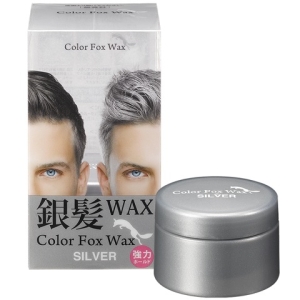 Silver hair WAX 1-Day Silver coloring "Color Fox Wax Silver"
Price : 1800yen + tax
Weight : 50g