The Students of True Cross Academy are set for the big screen this August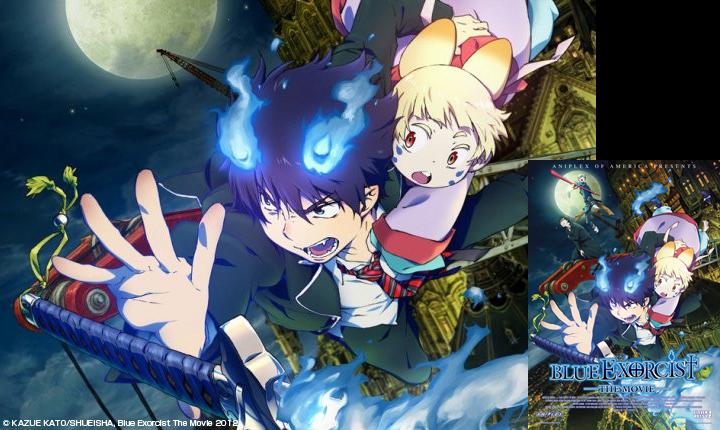 This August, Blue Exorcist fans will be treated to something special. Following their release announcement of the entire television series on video, Aniplex of America has just announced that Blue Exorcist: The Movie will debut in the US this August with English dialogue. Rin Okumura, Yukio Okumura and the rest of their friends return in this original story by Kazue Kato. A brief description about the movie, "Set at a time when True Cross Academy is in the midst of preparing for a festival celebrated every 11 years, a mysterious demon named Usamaro suddenly appears. Since Usamaro's appearance, strange events have been happening across True Cross Academy. It's up to Rin and the other exorcists to figure out what's going on before their city falls apart."
The entire Blue Exorcist English voice cast will reprise their roles in this original story set for the big screen. There is no doubt this movie will provide a new experience for both fans who have enjoyed the Blue Exorcist TV series or who are just introduced to Blue Exorcist.
Those who attend the showings will receive an exclusive Blue Exorcist The Movie poster, as shown at the top of this page. Ticket holders for opening night as well as those attending all other scheduled showtimes will receive the giveaway on opening night and throughout the scheduled screening times while supplies last.
For a complete set of show times and exclusive giveaway information, please go to BlueExorcist.com.
Blue Exorcist The Movie Showtimes and Locations:
Los Angeles, CA
Downtown Independent
2013/8/17 (Sat) 7PM & 2013/8/17 (Sat) 8:45PM
San Francisco, CA
4 Star Theatre
2013/8/17 (Sat)
Houston, TX
Vintage Park
2013/8/17 (Sat) 7:30PM
Katy, TX
Mason Park
2013/8/17 (Sat) 7:30PM
Chicago, IL
Music Box
2013/8/17 (Sat) 9PM
New York, NY
Big Cinema Manhattan
2013/8/17 (Sat) 9PM & 2013/8/18 (Sun) 9PM
(Press / Sony Music Entertainment)