16 popular cat artists gather at once. A joint photo and product sales exhibition will start from August 14.
BACON CO., LTD. will hold a joint photo & product sales exhibition, "Neko-‐‑‒break Exhibition" at a gallery "TODAYS GALLERY STUDIO" from August 14 (Fri) to 30 (Sun), which all the photos are about cute cats that make you smile.
16 artists are participating in this exhibition; Aoitori who is famous for the photo book "Even cats can make snot bubbles," Shironeko who is famous for "Kagoneko (Cat in a Basket), Naoki Makino who is famous for "Fu-‐‑‒chan, the Fluffy Cat," and more. More than 300 pieces of photos will be exhibited at this exhibition, including unpublished new works.
In addition, 4 artists who are popular at design festivals are opening a special merchandise booth; pico who is known for "Nyanko & Miko," Yukie Omomo (MOMO), and others. They will sell their works such as handmade one-of-a-kind items only at this event. Moreover, original Cat Art Postcards are distributed for free for the first come 2,000 guests.
You can enjoy cat photos taken by popular artists in front of the eyes! Many unpublished works!
Luxury exhibitors are participating in this exhibition. This will be a rare opportunity to enjoy live works that have gained popularity on the Internet and books. In addition, many unpublished new works will also be exhibited.
Aoitori will exhibit "that" miracle shot that is popular on the photo book and Facebook pages for the first time in Tokyo. And his new works Fu-chan, the Fluffy Cat and Cat in a Basket will also be exhibited.
In addition, a photographer, Manabu Koga, who is known for "Under Water Niso," is exhibiting privately taken photos of his loved cat. Come and see how he takes photos a cat on land, not under water.
Official guidebook & limited edition items that you can purchase only here are also available!
At merchandise shops, cat goods created by popular illustrators and photographers will be gathered. Venue limited edition items will also be sold. And new photo books will also plan to be sold, such as a pre-sale of "Fu-chan Life" (Naoki Makino / KADOKAWA) its official release is on August 22, quantity limited new booklet of Kagoneko "Summer Break of Kagoneko at a Village (provisional)" (Shironeko), and "Milk Cat" by Manabu Koga.
In addition, official guidebook (250 only) will be sold, which is limited at this exhibition and has condensed valuable contests of this time. You are sure to smile with this book only by looking at it. It is also possible to have artists' autograph on the book on the days, when artists are in the gallery.
*We will announce the date, when artists are in the gallery on official Facebook and Twitter.
---
[Participating Artists]
Aoitori
Self-proclaimed amateur & office worker photographer. Has acquired many gold medals and prizes at contests hosted by camera manufacturers, such as Nihon Camera. Also selected for the "100 Best Books of Wonderful Cat" of this year hosted by Nyanko-do, a cat book speciality shop in Jimbocho. Has gotten 20,000 fans at a SNS. At this exhibition, miracle shots from "Even cats can make snot bubbles" will be exhibited first time in Tokyo, which is popular at each media!
Shironeko
Lives in Iwate, Tohoku. Having a free and relaxed life with 6 cats, Shiro, Chatora, 55 Chibi, 73 Chibi, Mimi, and Kuro. They are Kagoneko, who live freely in the nature of Tohoku. This exhibition is the first photo exhibition for them. At this exhibition, we have reproduce the summer scene in 'a Village of Kagoneko.' Don't miss the booklet, "Kagoneko at a village (provisional)," which is limited at the venue!
Naoki Makino
Born in Hyogo. Lives in Osaka. After graduating a technical school, he became a web designer. A photo of "Fu-chan," a cat that he had rescued, were posted on Twitter in 2013 and it gained unexpected popularity. Has published books, such as "Fluffy Cat with Downhearted Face, Fu-chan" (Sayu Inc.) and "Fu-‐‑‒chan Life" (KADOKAWA / ASCII Media Works). Has appeared on a smartphone app "Nyanpuzzle" (DeNA) as a time-‐‑‒limited character as well. Has fluffy hairstyle matched with his cat.
Manabu Koga
Publishes movies and photos of "Girls under Water." Has produced many arts, such as the underwater photographs of the movie "Helter Skelter," and many music videos, such as Goodbye Ponytail and Avant-garde. At this exhibition, exhibits not only the works of his loved cat taken by now, but also a photo book, "Under Confirmation," will be sold only at this venue.
Other exhibitors will be Masakazu Ikeguchi (Tokyo cat color), Sakura Ishihara, Utsugi, Yukie Omomo, Kanon Okamoto (Nekoyui), Yomogi Kawai, Koji Nakagawa, Toshimitsu Hoshino, Chikako Mori, aico, kiyochan, and te.bu.re. Total of 16 artists.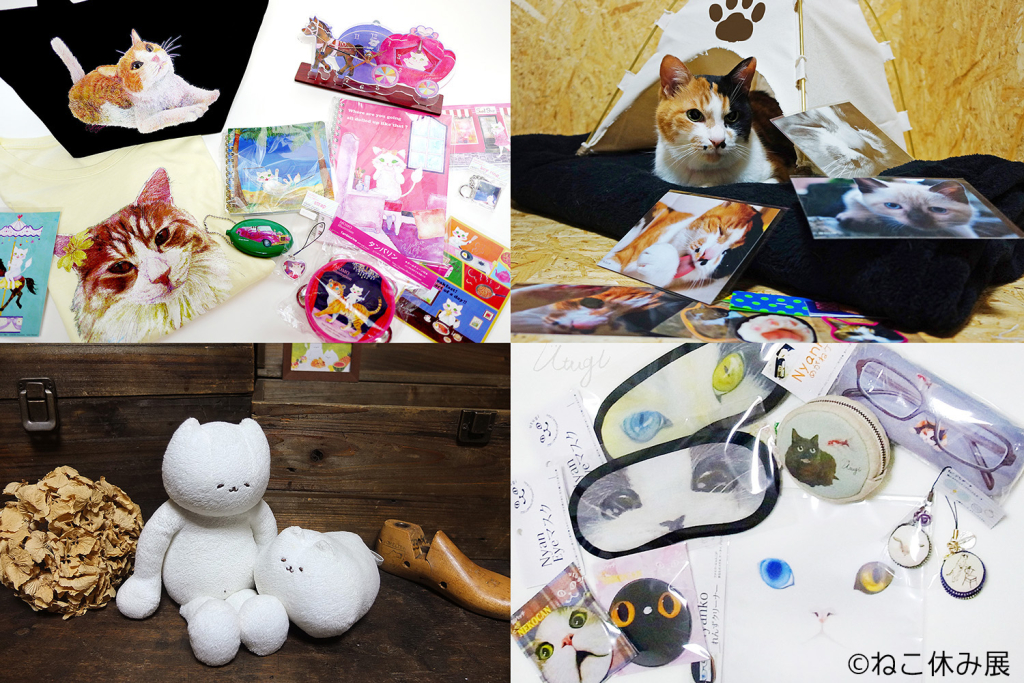 ---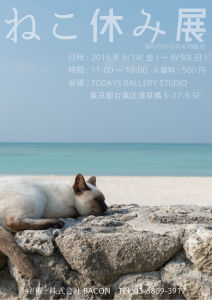 [Exhibition Summary]
Exhibition Name: joint photo and product sales exhibition of cats: "Neko-break"
[Dates] August 14, 2015 (Fri) – August 30 (Sun) 11:00 to 19:00
[Place] TODAYS GALLERY STUDIO
5F, 5-27-6 Asakusabashi, Taito-ku, Tokyo, zip 111-0053
[Entrance fee] ¥500
[Organized by] Corporation BACON
[URL] http://www.tgs.jp.net/nekoyasumi.html (Japanese only)
[Exhibitors] 16 exhibitors (planned)