If you have kept an eye on the Visual Kei scene ever since the genre's first major florescence overseas a decade ago, THE KIDDIE should be no stranger to you. Although much to the disappointment of their adoring followings, this sweet, exuberant young group were left with no choice but to disband in 2015, we are still lucky enough to see most of the members continue with a music career in their own way, making public appearances on a regular basis. For those of you who were hardcore fans of them, however, the inability to see the band (or any of the members) perform live in your own country or even access their information real-time in your language could be a terrible torment, which I completely understand. But things have changed dramatically in recent years—you are now blessed with the big-eyed, captivating guitarist YOUSAY who works proactively with various music projects (AKi, SHIN, ROOKiEZ is PUNK'D, etc.) and tours extensively both home and abroad. And of course, we won't let you miss him while he is here in the States for the co-headlined world tour of ROOKiEZ is PUNK'D and SPYAIR. Amid the chilly weather in New York on a Friday night of the approaching fall, we sat down with him over several drinks to talk openly about his life as a freelance musician, and his dreams about the future.
Q: Welcome to New York. Is this your first time here? How do you like the world tour so far?
A: Yes this is my first time here in New York, and I really enjoy being here. It does live up to its hype as a huge modern metropolis. It was like a dream when I was first told to come with ROOKiEZ is PUNK'D for the entire world tour. The experience playing gigs to the American and New York audience is such a huge pleasure, which prompts me to pursue my music career further and more internationally.
Q: Is there any difference between what you feel about New York now and what you felt before coming?
A: This might sound surprising but I would compare the landscape and architecture in New York to that of Hokkaido. They simply resemble each other a lot. On the other, however, New York is similar to Shibuya in Tokyo in terms of the vibe of the city—carnival and nightlife are their hallmarks.
Q: Have you been to any tourist attractions in New York so far?
A: I visited the 911 Memorial & Museum earlier today. It was quite intense, and thought-provoking. I wish I could have time for the Statue of Liberty though, unfortunately, we are leaving for San Francisco tomorrow. But I really hope to see more of New York next time during another tour.
Q: You surely will be back. You have a solid fanbase here, and they definitely wish to see you more.
A: Thank you. I will work hard towards that. There are still so many places I would like to visit in the future, for example, Los Angeles. So please do continue supporting me!
Q: Since you have been working with so many bands and artists for quite some time, can you introduce us to your co-workers?
A: As you may know, I mainly work with AKi, SHIN and ROOKiEZ is PUNK'D at this moment. Of course, they all have different personalities but they are all super passionate, nice guys. AKi, who is both known as the bassist of SID as well as his eponymous solo project, has been taking care of me like my elder brother ever since I was still in THE KIDDIE. We are keeping a close relationship both in work and private, meeting each other on a regular basis. AKi really pays huge attention to my career; he introduces me to many important figures in the music scene, including the legendary vocalist Hyde, Shinya from Dir En Grey, etc., which has expanded my connections considerably. He has such an attractive personality that I would say everyone who knows him loves him. I am really lucky to have met him in my life.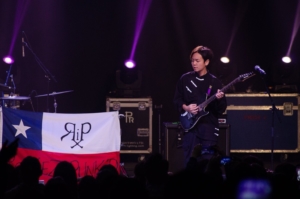 SHIN is extremely hard-working and detail-oriented. It took him quite long to restart as a solo artist after the disbandment of ViViD because he didn't want to reveal anything until he creates something that completely satisfies himself. Actually, SHIN and I go back a long way; we've known each other since both of us were still newbs to the Visual Kei scene, back in the time when I was playing in another band before THE KIDDIE while SHIN had yet to sing for ViViD. Therefore in many senses, I was really happy when such an amazing musician and longtime buddy invited me to be involved in his project. But I do think he pushes himself too hard sometimes; he would worry about lots of things even when he is perfectly prepared. He is already doing great.
Needless to say, my collaboration with ROOKiEZ is PUNK'D means a lot to me. Thanks to this band, I have been able to travel to so many fantastic places for various events and meet so many nice people overseas. Since anime has already become a shared culture across the world, the fact that ROOKiEZ is PUNK'D has made so many cool anisongs really helps us to connect with the world and communicate with fans everywhere. The members are really nice, and they can be funny and goofy sometimes too, which brings lots of laughter to our journey. I feel so blessed to have joined this loving group.
Q: Thanks for sharing so much about your personal experience with other artists. The fact that you are on good terms with so many peers also speaks so much about your own personality. Now let's talk more about yourself. May I ask why you have changed the notation of your name from Kanji characters to the English words YOUSAY?
A: There is nothing special—ever since I realized I would be gaining more opportunities overseas, I figured it might be a good idea to replace the original one with the English words so that overseas audience won't have problems recognizing me and pronouncing my name.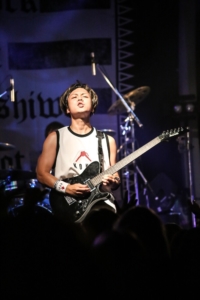 Q: I really think it's a perfect correspondence between your Japanese name and English name; usually you cannot find exact corresponding words in English with the same pronunciation for a Japanese name. Speaking of the difference between Japanese and English, can you share with us some of the foreign music and Japanese music that you enjoy listening to?
A: Of course. I listen to Limp Bizkit and Slipknot a lot. They are really popular in Japan, and lots of musicians like me are also big fans of them. Both bands have been participating in music festivals and concerts in Japan, so I usually would take the opportunity and go watch them live. As for domestic bands, I like pop bands such as Porno Graffitti and ITOWOKASHI, which I would also like to recommend to overseas listeners.
Q: The two Japanese bands you have just mentioned do not belong to the Visual Kei genre if I am correct. Does that mean you are not really limiting yourself to the Visual Kei genre at all?
A: No, not at all. I mean Visual Kei is definitely my starting point. I was inspired by another Visual Kei band called Alice Nice (A9 now) in the first place, and that was pretty much my first motivation to enter the Visual Kei industry. I also received musical influences from Visual Kei legends such as Dir En Grey earlier on. But now you can tell that I am working with bands and artists of different genres, from pop to rock. I am not wearing heavy make-up anymore either, compared with my Visual Kei era. That does not mean I don't love Visual Kei anymore—I do love it, and hope more people overseas would know it. But at this current point, I am trying to enrich my experience and expertise while working with other musicians out of the Visual Kei scene because they are really doing a fantastic job.
Q: Can you tell us about your favorite anime characters?
A: I love Crayon Shin-chan a ton. I started watching Shin-chan since I was very young, and I still love it today even I am already a grown-up. Many say he is childish and vulgar, but I can hardly agree. He is always the cutest to me. Also, have you heard of the Japanese Yōkai (supernatural creatures from Japanese folklore)? I am a big fan of Gegege no Kitarō, a manga/anime title that largely popularized these lovely creatures.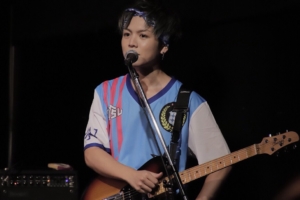 Q: What would be your second career choice after being a musician?
A: I haven't really thought about this, but since I am a big fan of animals myself, I would probably try some jobs related to animals. Touching furry animals has always been one of the best ways to relieve my fatigue of the day.
Q: Are you keeping any pets at this moment?
A: Yes I am; as many of my fans may know, I am currently keeping a dog whose name is Regrow. You can find Regrow's pictures on my Instagram (@yousay_kickline).
Q: Thanks for sharing with us so many details about your life. Last question, also the question that your fans are most interested in. Do you have any plan forming your own band anytime soon? And is it still possible to see THE KIDDIE in its full lineup on stage again?
A: I understand that there are many fans anticipating a reunion of THE KIDDIE, and all I can say at this point is that we have been working hard towards it, but we have also encountered enormous obstacles in reality. I do not want you to misunderstand, but the reason for our disbandment does not lie in our bad relationship or anything. To be honest, we still stay really good friends up till today. As for the new band, I do hope to form one someday, but it could be tricky because I can't allow myself to do so until I have found the new members comparable to my bandmates in THE KIDDIE. You know it's difficult to surpass what you have already experienced and achieved before. Having said that, I am definitely considering it and will let you know when I am ready for a new band. I do hope to tour internationally with my project in the future.
We would like to thank YOUSAY for his time and we hope you have enjoyed reading this interview. Make sure to stay tuned for more information on this amazing guitarist and his projects! Also, please don't forget to follow him and ROOKiEZ is PUNK'D on their Twitter and Instagram:
YOUSAY Twitter:@yousay_official
YOUSAY Instagram: @yousay_kickline
ROOKiEZ is PUNK'D Twitter: @_ROOKiEZ_
ROOKiEZ is PUNK'D Instagram:
@rookiez_official
---
ROOKiEZ is PUNK'D and SPYAIR co-headlined World Tour 2018-2019 is still rolling, so make sure to grab your tickets as soon as possible to catch them on a date in your area! Check out their tour dates below: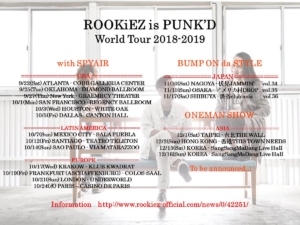 (credit: ROOKiEZ is PUNK'D Official Twitter)
---
Posted by Melissa