Following our interview with the main cast and director of Fullmetal Alchemist live-action movie last summer at Anime Expo 2017, luckily enough, we also got the opportunity to attend a special US premiere of the film at Anime NYC on November 19th, 2017, which was even prior to its official public release in Japan on December 1st.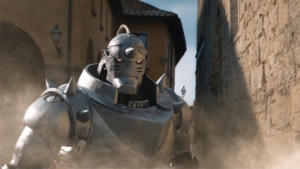 The premiere drew a packed house at the main auditorium of Jacob K. Javits Convention Center on that Sunday. The premiere was a ticketed event and sold-out weeks before the Anime NYC weekend. Enthusiastic fans of the anime started lining up hours before the premiere, many of them in cosplay of Fullmetal Alchemist characters. This event was not only the very first screening of Fullmetal Alchemist live-action film in the US, but also featured a rare appearance of the Director Fumihiko Sori, and a special comment video from the lead actor Yamada Ryosuke and the author of the manga, Arakawa-sensei.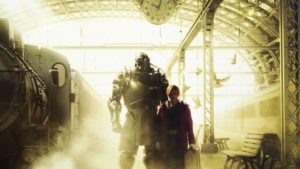 At the beginning of the premiere event, Director Sori first took the stage, and gave his greetings and opening remarks to the New York audience:
"First of all, thank you all so much for coming out here today. I love New York! I am actually a little nervous because this is the first time this has ever been shown outside of Japan. I hope you stay until the end and enjoy every moment of it. As many of you may already be aware, this is a very famous work that we made into a live-action movie. Those of you who are familiar with the original work know that the characters are Western and the story is set in Europe. So, the fact it is an all Japanese cast may feel a little bit weird initially. What's really important about this work is what is at its very heart. The spirit of the story and the themes developed in it like sibling relationships. That's very Japanese, so we thought that it was the best way to express the story was to use a Japanese cast. Therefore, I want you to look past the faces and focus on the story. Compare how closely we followed the original story and how we didn't stray too much from it. I believe that what the creator, Arakawa-sensei, put in the original story has been directly translated into the film. Again, please enjoy it to the very end."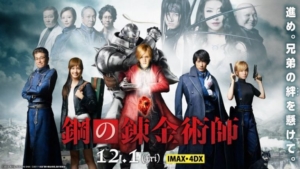 Next, the staff showed a special comment video from main star Yamada Ryosuke and Arakawa-sensei. But since Arakawa-sensei was to shy to show herself, her face was covered by the image of a cow, which was the very same cow that she usually draws herself as in her manga. The cow image was moving all the time as the position of her face changed along with her action, which the NY crowd found super cute to watch, laughing and applauding the entire time.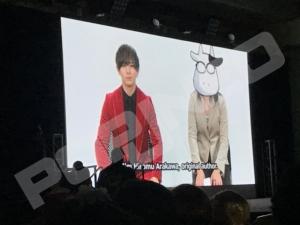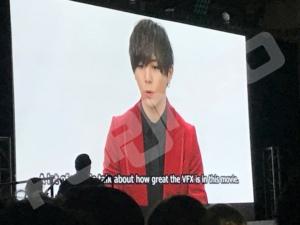 After the guest comments, the screening officially began. In general, the plot is a loose adaptation of the manga, centering on Edward and Alphonse Elric. The two brothers seek to restore their bodies after an attempt to bring back their dead mother through alchemy goes awry. Ed loses an arm and a leg; those are replaced by prosthetics known as automail. After Alphonse's body disappears, Ed bonds his soul to a suit of armor. Though Ed has lost much, he refuses to give up. Now outfitted with steel prosthetic limbs, Ed becomes a State Alchemist and sets out on a journey with his armor-clad brother Al to seek the legendary Philosopher's Stone. The entire film largely relies on visual and CG effects, which is consistently superb in quality and evidently a reason that makes this film a must-see. For example, Alphonse's armor looks extremely real, as if a living piece of armor is actually present, talking and reacting to other characters. As of cast members, Yamada Ryosuke fully showcased his acting skills portraying Ed in this film, where he successfully managed both the sorrowful moments that require a great capture of the character's personality and psychology, as well as the fierce action scenes that ask for extraordinary physical capacities. Besides Ed, all the other characters were also assigned to actors that match their respective roles perfectly no matter appearance-wise or aura-wise. Fullmetal Alchemist made every perfect choice in terms of casting since I could not think of other actors to replace any of the current cast members without compromising the quality of the film. Ryuta Sato was a perfect incarnation of Hughes; Dean Fujioka also did a great job of playing the serious and stoic Roy Mustang. My personal favorite was Envy played by Kanata Hongo, since the idiosyncratic aura of the actor made him the best person to portray the non-human and otherworldly quality of Envy mixed with evil.
The lucky attendees who were able to watch this US premiere seemed to be extremely satisfied with what the film presented. Twitter was overflowing with exciting fan-reactions right after the premiere, which proved the film a great hit even before its official release. Director Sori said they were actively seeking to bring this film to the public audience in the US, but no words on the dates or other info are available as of today. However, this is nothing disappointing since it always takes quite some time for a film to find an appropriate licensing partner overseas and figure out details in the releasing process. The Gintama live-action movie is a great example of such, which has kept US fans waiting for almost half a year since it first opened in Japan last July until its release in selected US theaters just this month. We have a good reason to believe Fullmetal Alchemist will finally arrive in the US after some time, considering its release date was only two months ago. If you missed the opportunity to attend the premiere in New York last November, make sure to always check back on POPJNEO for the latest updates on the North American release info of Fullmetal Alchemist live-action movie! Also, if you are curious about what happened last summer at the panel of Fullmetal Alchemist movie @Anime Expo 2017, please check out our exclusive interview with Yamada Ryosuke and Director Sori here.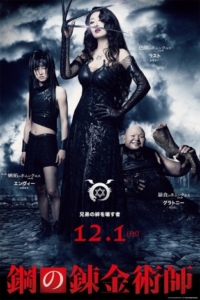 ---
Posted by Melissa