The first day of this July marks not only the beginning of the biggest North American anime convention, Anime Expo 2017, but also the second night for the much-anticipated carnival of Anisong — "Anisong World Matsuri at Anime Expo 2017 ~Japan Super Live~". Most sought-after anisong musicians from Japan drew a packed house at Microsoft Theater that night and showcased the influential culture of Anisong and Anime with their respective stage in front of more than 6000 excited audience. Both new stars and veteran artists joined the lineup to complete a well-rounded set list, where the latest hot anisong releases intermixed with the refreshing ways they interpreted old songs that every fan would find familiar with. 
The darkened theater suddenly transformed into thunderous cheers and screams when angela and Konomi Suzuki made their grand entrance. When they set it ablaze with a collaboration of the classic Zankoku na Tenshi no These, the entire audience became frantic, shouting and pumping their fists in the air to show how much they were surprised to hear this timeless song.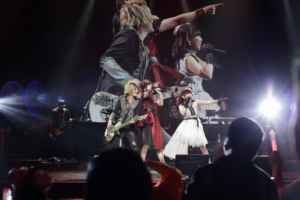 Proceeding with the mood from the opening song, Konomi Suzuki kicked off her solo performance. Consecutively beating off three of her best-known numbers even by oversea fans, This game, Blow out and Redo, the 20-year-old powerhouse sent the crowd into a frenzy with her stunning vocal techniques and stage presence. Mashiro Ayano followed to perform her hit song vanilla sky, new single NEWLOOK and her debut single ideal white, to help the crowd vent more excitement they had built up while waiting for the show. After the powerful sets presented by both young singers, it would be an understatement to say the energy in the packed venue was intense.
GARNiDELiA, composed of vocalist MARiA and producer/composer toku, took over the stage with their iconic ambiguous. Backup dancers  joined vocalist MARiA in the songs griletto, SPEED STAR and Yakusoku-Promise code- to add even more variety and spectacle to her performance. At the end of their set, MARiA invited her good friend Mashiro Ayano to join her on stage for a surprise collaboration of Sorairo Days to show their special thanks to American fans.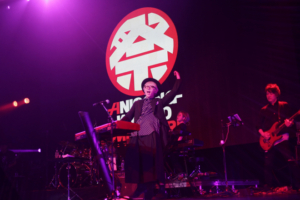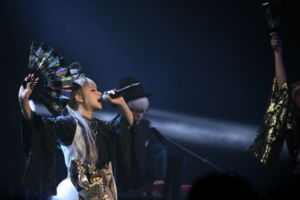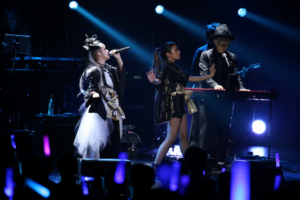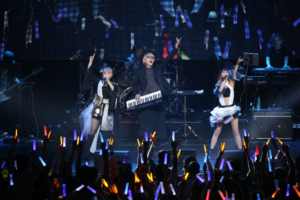 The next artist to rock Microsoft Theater that night was ALI PROJECT. Frontwoman Arika Takarano captivated the Los Angeles crowd with her otherworldly music concept, chanting her unique, gothic, sometimes spooky yet ethereal songs. Together with backup drag performers, ALI PROJECT performed Boukoku Kakusei Catharsis, Yuukyou Seishunka, Seishoujo Ryouiki and Rara Eve Shinseiki.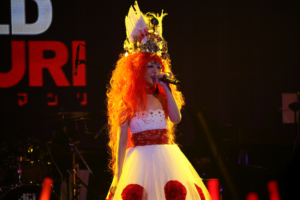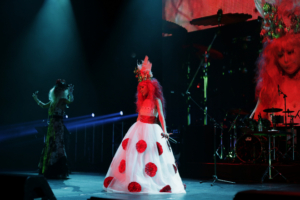 Minori Chihara started the second half of the show in the thunderous cheering and applause (mostly from male fans). Chihara finished off Paradise Lost, TERMINATED and Kyoukai no Kanata in one go, before Arika Takarano from ALI PROJECT came back to the stage and joined her in the song Celestial Diva. The show came to a boiling point during Chihara's next song, Hare Hare Yukai, reminiscent of 10 years ago when the singer also performed this song in LA. Fans immediately dived into singing together with Chihara, which makes a lot of sense since the song also serves as the opening theme to the anime she is best known for, Suzunomiya Haruhi no Yuuutsu. The singer's set ended with Freedom Dreamer, leaving her loyal fans looking forward to her next return to Los Angeles.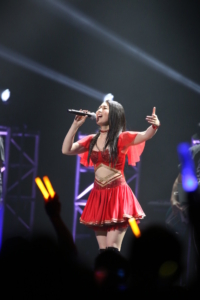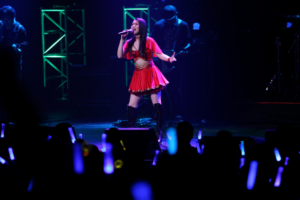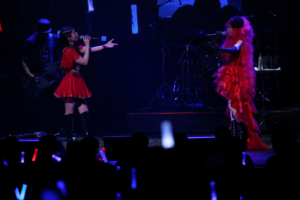 Performing the grand finale of the night, vocal-and-guitar duo angela commanded the crowd with a best selection from their big hits, consisting of Boku Ha Boku de Atte, Ashita he no brilliant road, Sidonia, KINGS and Shangri-La. 
After the performance wrapped up, the entire lineup showed up on the stage again to give a farewell to their lovely LA audience. The memorable night was a true testament to the fact that music surpasses all boundaries and that Anisong is shared and enjoyed by the whole world.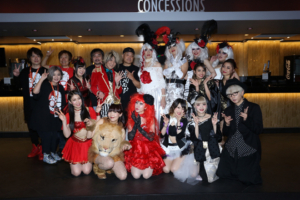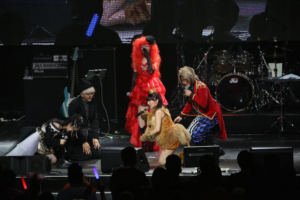 Upcoming events hosted by Anisong World Matsuri includes the already sold out concert BILIBILI MACRO LINK -STAR PHASE x Anisong World Matsuri at Mercedes-Benz Arena in Shanghai China, and Anisong World Matsuri at Otakon 2017 in Washington DC that features FLOW, T.M.Revolution, Yousei Teikoku and JAM Project on August 11 and 12, marking the last show of Anisong World Matsuri in this summer.
---
Setlist: Anisong World Matsuri at Anime Expo 2017 ~Japan Super Live~
<Collaboration>
Zankoku na Tenshi no These – angela×Konomi Suzuki
<Konomi Suzuki>
This game
Blow out
Redo
<Mashiro Ayano>
vanilla sky
NEWLOOK
ideal white
<GARNiDELiA>
ambiguous
grilletto
SPEED STAR
Yakusoku-Promise code-
<Collaboration>
Sorairo Days – Mashiro Ayno×GARNiDELiA
<ALI PROJECT>
Boukoku Kakusei Catharsis
Yuukyou Seishunka
Seishoujo Ryouiki
Rara Eve Shinseiki
<Minori Chihara>
Paradise Lost
TERMINATED
Kyoukai no Kanata
<Collaboration>
Celestial Diva – Minori Chihara×ALI PROJECT
<Minori Chihara>
Hare Hare Yukai
Freedom Dreamer
<angela>
Boku Ha Boku de Atte
Ashita he no brilliant road
Sidonia
KINGS
Shangri-La
---
Upcoming Anisong World Matsuri Events
■BILIBILI MACRO LINK -STAR PHASE × Anisong World Matsuri
Date: July 22, 2017
Venue: Mercedes-Benz Arena, Shanghai, China
Lineup: Aimer, Aqours, May'n, Suzuko Mimori, Mamoru Miyano, OLDCODEX, Yoko Takahashi, YUNNA, Minori Suzuki from Walküre
■Anisong World Matsuri at Otakon 2017
Date: August 11 and 12, 2017
Venue: Walter E. Washington Convention Center, Washington DC, USA
Lineup: FLOW, JAM Project, T.M.Revolution, Yousei Teikoku
---
Posted by Melissa