Vocalist of BugLug, Issei, announced his much-anticipated full comeback to the stage, having suffered severe head injury after an accident on May 7th 2016. To celebrate their comeback in the band's complete line-up, BugLug held their Budokan debut concert "5+You=Infinity" on May 7th, 2017, with a new single to be released in August and a 47-Prefecture Live Tour to follow to showcase their triumphant restart.
Without Issei, the rest of the band had been active as BugLug during the past year. At the beginning of 2017, they welcomed Issei back at "Extra-Territorial", a live event featuring all bands from Resistar Records. Although Issei only performed the last song at the show, he dropped some big news in front of his adoring fans: BugLug would perform a headline show at Budokan on May 7th, 2017.
To perform at Budokan had been the greatest wish of BugLug ever since they formed; and the date of the show, May 7th, does not only coincide with the frontman's birthday, but also the day he got terribly injured last year — the band's debut at Budokan was meant to be a most memorable show with great significance in many aspects. The whole venue was immersed in the sound of heartbeats before the show; as the heartbeats got faster and faster, the five captivating members of BugLug finally took the stage one after another, with a spectacular video screening in the background. After Issei stepped onto the stage lastly, instead of cheering for the band, the audience couldn't help but hold their breath, as if they couldn't believe all five members of BugLug were now standing on the stage. But soon the audience came to realize a complete BugLug was really performing in front of them: people started to pump their fists in the air as the band went right into it with "R.I.P", a song about the end and the start of the world, with unparalleled energy. It amazed everyone that Issei's vocal techniques for both shouting and "death voice" was not undermined at all compared with his voice before hospitalization. Knowing that Issei was in his best condition, fans were relieved and started to enjoy the music while handbanging. "This is the scenery I've always wanted to see!" Issei shouted his excitement at Budokan, and delivered his first comeback speech that fans had been longing for in the past year.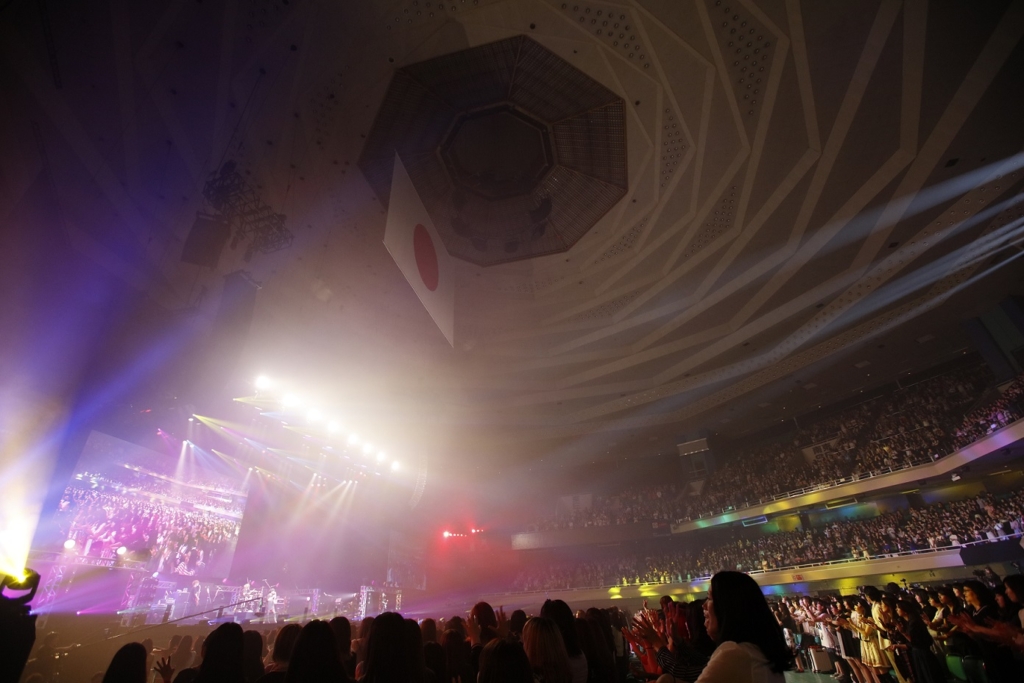 "It's been quite a while but I'm finally back with BugLug! Can you hear and feel me being here? You guys must've been so worried about me. I was hospitalized on May 7th last year, exactly a year ago today. Seriously, I was so close to dying. But I am still alive now, and finally managed to come back as part of the complete 5-piece BugLug. From today will start a new battle to fight for our future life. The enemy is no one else but you yourself living at this moment! Let's fight together!"
On the stage decorated by dramatic flame effects, the band went on to perform "V.S", the last single released before Issei's accident with a theme of "fighting with oneself". Winning the battle with himself to escape from death, Issei was able to perform this song with a convincing voice and a sharp gaze. Proceeding with the same mood, BugLug vented more of their passion in "THE DEAD MAN'S WALKING" while repeating the chorus time after time together with frenzied fans. BugLug has been making more songs about "ways of life" in recent years. Now having recovered from a shocking accident in his own life, Issei was empowered with more expressive stage presence, which made his interpretation of music feel more real than ever before. Later, the band lived up to their name in diversity by playing songs of various genres, including "Geijutsuteki Shisouka no Henrin", an epic song with a sense of opera, and the peaceful yet encouraging "Live to Love".
"It's been so long since I last did a live show. It makes me so nervous but excited as well," said Issei with huge enthusiasm. During the next section made of pop tunes, members started running down the runway to interact with the audience. "Doing a live show is so much fun! Let's play some high tempos now!" The band dove into more aggressive songs to show BugLug's capabilities as a rock band. Kazuki on guitar raised his mic to shout loud during "Girochin"; while Yuu took the center of the stage and stunned everyone with his guitar solo for the song — it was obvious that while Issei was away, instrumentalists of the band had evolved considerably in terms of their energy and stage presence. Following was "Zekkouetsurakuron", and you better understand the meaning behind this song — "to create a new world, you have to cut ties with your old self." After fierce headbanging of both the band and fans along the intense music, the first part of the show came to an end, marking a successful, complete comeback of BugLug.
The encore set started with a little speech by each member of BugLug. "Welcome to Livehouse Budokan, BugLug is not ending here!" Kazuki showed great passion to stir up the audience. Masaumi on drums also expressed his gratitude to fans, "Thank you for waiting for us for so long!" Bassist Tsubame told the audience he was so thrilled that they could perform at Bodokan to achieve the band's all-time goal and he even sent a really long email to Issei to show his emotions. "Thank you for coming back!" said Tsubame to Issei. The next to give a speech was Yuu, who had been leading the band while Issei was away. After his famous talk about "today's unpopular merchandise", Yuu revealed some similar emotions as other members, "the exact fact that I could do such boring talk, that all five of us are standing here, and that you guys are all here for our show, makes me realize how blessed I am. Thank you so much for having waited us for the entire year. I am looking forward to the the band's future with you guys", finishing his speech with a bow to the audience at the end.
Issei finished "Time Machine" with the infectious comment "we don't need time machine! Treasure those realistic dreams and live on! There are still so many dreams awaiting us. Let's sing together!", and transitioned to the next song "Dream Rush". "I would not be here today if I weren't saved from death miraculously. I bet it's because everyone here in the venue, everyone of my  members and staff, and mostly our fans, have endowed me with this new life! Because of that, I wish I could continue singing in the band BugLug for the rest of my life!" While singing "Owari No Nai Uta.", the lyrics of which was based on the Bodokan show title "5+You=Infinity", Issei couldn't help shedding a few tears.
"The five of us plus you guys is equal to infinity! Thanks to your support, we are able to perform here! We made the show happen today precisely because of the bonds between us and you guys. And, precisely because of our bonds, I would like to say, please, everyone here, be yourself and SHINE!
Following Issei's passionate shout, BugLug wrapped up the grand performance by singing  "HICCHAKA×MECCHAKA" with fans. All members of BugLug left the stage but Issei, as he still had a few words to share.
"I only dreamt once while in hospital. That was in mid-June; I can't remember anything about that time, except for the dream where I saw Budokan through the window in my room. And I was joking to everyone who came to visit me, 'I am gonna play in Budokan next time, please stay tuned!' Now it is truly a beautiful dream come true. I am feeling so grateful to everyone here. I look forward to seeing you guys in our 47-Prefecture Tour soon!"
Yes, the band will embark on a 47-Prefecture Tour as Issei said, and the flyers distributed to fans after the Bodokan show contained more details about it. Beginning at CLUB CITTA' Kawasaki on September 3rd and running until February 17th next year at Shinkiba STUDIO COAST in Tokyo, the tour titled "RESTART WITH A NEW LIFE" includes 47 stops all across Japan. Additionally, BugLug will celebrate the day of "89" (the pronunciation of the two numbers combined is similar to the band's name) again this year, with a new single release and also a free outdoor live show titled "Jiyuu~ASOVIVA~Kuiki Revenge" in Yoyogi Park as they did last year. We can't wait to know how the band will perform at Yoyogi Park this year to take revenge for the show at the exact same place last time, which could only be presented by a 4-member unit. It was also announced that a DVD featuring BugLug's Bodokan live would be released on September 6th. With a strong message behind their exceptional music, BugLug has just gained a new life with greater strength and power, shining more brightly than ever before. Make sure to stay tuned for the band's future activities!
---
◆BugLug OFFICIAL WEBSITE◆ 
http://www.buglug.jp/
◆BugLug Twitter◆
@RR_BugLug
---
Photo by Susumu Miyawaki
Posted by Melissa