Official 'PPAP' Stickers by PIKO-TARO for iMessage are Now Available on the App Store!
With these stickers, PIKO-TARO's fans will be able to send an animation with the real 'PPAP' song by PIKO-TARO via iMessage. The stickers are available in all areas where users can access the App Store on iOS 10 devices and the price is JPY240 (including tax).
The PPAP-Pen Pineapple Apple Pen stickers by PIKO-TARO can be sent alone or on the balloons via iMessage. A series of 'PPAP' stickers comes in 28 styles including animation stickers and short video stickers. Have a nice chat on iMessage with hot 'PPAP' stickers.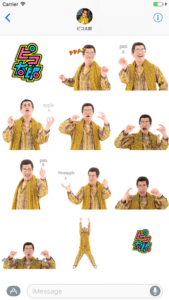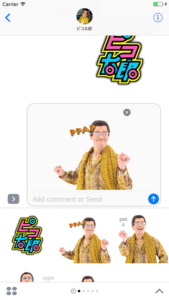 'PPAP' by PIKO-TARO has gradually reached masses on SNS and has stuck in our head. Since it was shared by Justin Bieber, a US popstar, on Twitter, the 'PPAP' short video instantly went viral and has been viewed around the world more than four hundred and fifty million times. Then, 'PPAP' finally ranked at No. 77 on the Billboard Hot 100 on October 19th (for the first time for a Japanese artist in 26 years) and was certified by Guinness World Records on October 28th as the shortest song to enter the Billboard Hot 100.
---
URL to download:
Official 'PPAP' Stickers by PIKO-TARO for iMessage