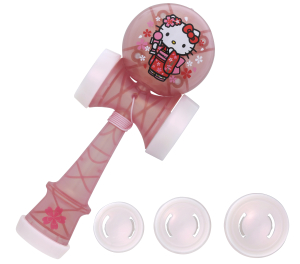 BANDAI original Kendama series "Kendama Xross" collaborates with Hello Kitty that is beloved by everyone and transmits "Kawaii" all over the world.
Hello Kitty with kimono is printed on the surface of the ball, and the overall tone is pink that matches the cheery blossom printed on the Kendama.
It includes 2 types of cups such as pink gold base pearl white "standard cup" and wide stable "stabilized cup". You can change it according to your level, so even people who play Kendama for the first time can enjoy it.
About Hello Kitty
Hello Kitty is a famous character of Sanrio Co., Ltd. Her height is the same as 5 apples and her weight is the same as 3 apples. She is a very cheerful and kind girl. She likes to bake cookies and play the piano. Her dream is to become a pianist or poet. Her favorite food is an apple pie made by her mom. She loves her twin sister Mimi. Her birthday is November 1st.
Size of product : about H 180mm x W 70mm x D 59mm
Weight : about 160g
Release date : Saturday, November 14th, 2015
Price : 3,240 yen (with tax)
(C) 1976, 2015 SANRIO CO., LTD. TOKYO, JAPAN