1 year after the SAO incident, Kirito is approached by Seijirou Kikuoka from Japan's Ministry of Internal Affairs and Communications Department "VR Division" with a rather peculiar request.
That was an investigation on the "Death Gun" incident that occurred in the gun and steel filled VRMMO called Gun Gale Online (GGO). "Players who are shot by a mysterious avatar with a jet black gun lose their lives even in the real world…" Failing to turn down Kikuoka's bizarre request, Kirito logs in to GGO even though he is not completely convinced that the virtual world could physically affect the real world.
Kirito wanders in an unfamiliar world in order to gain any clues about the "Death Gun." Then, a female sniper named Sinon who owns a gigantic "Hecate II" rifle extends Kirito a helping hand. With Sinon's help, Kirito decides to enter the "Bullet of Bullets," a large tournament to choose the most powerful
gunner within the realm of GGO, in hopes to become the target of the "Death Gun" and make direct contact with the mysterious avatar.
For details on Sword Art Online II, please visit: www.SwordArt-OnlineUSA.com www.Facebook.com/SwordArtOnlineUSA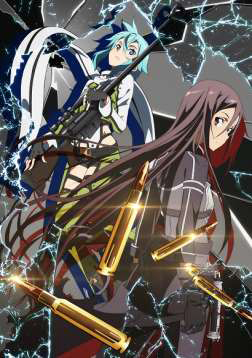 SANTA MONICA, CA (April 16, 2015) – Recently at their panel at Sakura Con (Seattle,WA), Aniplex of America Inc. announced their release plans for the hit anime series Sword Art Online II. The series will be released in 4 volumes per format in Limited Edition Blu-ray Box Sets and Standard Edition Blu-rays and DVDs. The First Volume will be available on June 30th. Release date and information about the other volumes will be announced on a later date. Pre-orders for the first volume is now open and will be available for purchase in the US, Canada, Central and South Americas.
The Limited Edition Vol. 1 Blu-ray Box will come with tons of bonus materials including the Original Soundtrack CD vol. 1, a deluxe 24 page booklet as well as an exclusive collectible Weiss Schwarz card from Bushiroad (while supplies last). In addition, bonus contents on each Blu-ray discs will include audio commentary by Creators and Japanese cast, Special Animation "Sword Art offline II", and more. The packaging will also feature illustrations by abec (Original Character Design), and clear BD Cases with double-sided Japanese cover design. Both Blu-rays and DVD will have Japanese and English

dialog, English subtitles as well as Spanish subtitles. Limited Edition Box Sets will be available while supplies last.
Sword Art Online II is currently part of the ToonamiTM late Saturday night line-up, featuring an all-star English dub cast including Bryce Papenbrook (Blue Exorcist, DURARARA!!) playing Kirito, Cherami Leigh (Blue Exoricst, Baccano!) as Asuna, Cassandra Lee Morris (Madoka Magica, Blue Exorcist) as Leafa, Sarah Anne Williams (Madoka Magica, KILL la KILL) as Lisbeth, Christine Marie Cabanos (Madoka Magica, KILL la KILL) as Silica, Kirk Thornton (Blue Exorcist) as Klein and Stephanie Sheh (Blue Exorcist, KILL la KILL) as Yui. Michelle Ruff (GURREN LAGANN, DURARARA!!) will be joining the star-studded cast as Sinon in the sequel.
---
Sword Art Online II Limited Edition Blu-ray Box Set I features:
2 Blu-ray Discs + Soundtrack CD
Video: 16:9 widescreen
Audio: Japanese & English dialogue
Subtitles: English and Spanish
Episodes 1-7 (175 min.)
Audio Commentary by Creators and Japanese Cast
Special Animation "Sword Art Offline II" (English Subtitled)
Original Web Previews
1st Season Textless Opening
<Exclusive Bonus Materials and Special Packaging>
Original Soundtrack CD Vol. 1
Deluxe 24-page booklet
Exclusive Weiss Schwarz Collectible Card (while supplies last)
Package illustrated by abec (Original Character Design)
Clear BD cases with double-sided wraps

---
Sword Art Online II Standard Edition Blu-ray Vol.1 features:
2-Blu-ray disc set
Video: 16:9 widescreen
Audio: Japanese & English dialogue
Subtitles: English and Spanish
Episodes 1-7 (175 min.)
Audio Commentary by Creators and Japanese Cast
Special Animation "Sword Art Offline II" (English Subtitled)
Original Web Previews
1st Season Textless Opening
---
Sword Art Online II Standard Edition DVD Vol.1 features:
2-DVD disc set
Video: 16:9 widescreen
Audio: Japanese & English dialogue
Subtitles: English and Spanish
Episodes 1-7 (175 min.)
1st Season Textless Opening
---
For details on Sword Art Online II, please visit:
www.SwordArt-OnlineUSA.com
www.Facebook.com/SwordArtOnlineUSA