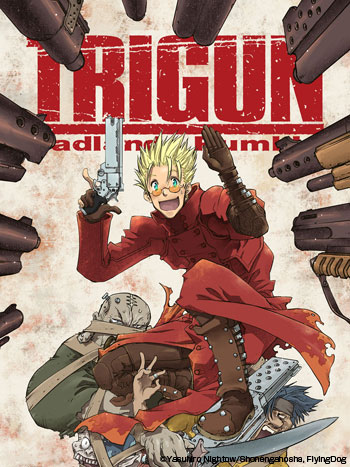 ELEVEN ARTS and FUNimation Entertainment are bringing the feature length followup film to the popular "Trigun" anime series, TRIGUN: BADLANDS RUMBLE, to the big screen in theaters across North America in Summer 2011.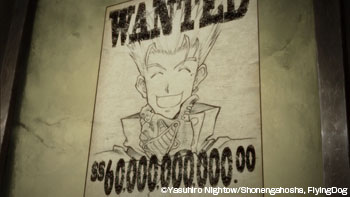 – SYNOPSIS –
In a town surrounded by quicksand, an outlaw from Vash the Stampede's past has resurfaced after twenty years. His name is Gasback – and he's looking to cause a little trouble. It seems Gasback has a serious beef with the town's mayor, who's paying dozens of bounty hunters to protect his turf. One of those hired guns is a beautiful woman with a vendetta against Gasback. Will she get a shot at revenge? Maybe, if she can get through Gasback's bodyguard, Wolfwood. And what's Vash got to do with this mess? Nothing much – except for the fact that he personally set off the entire chain of events two decades ago!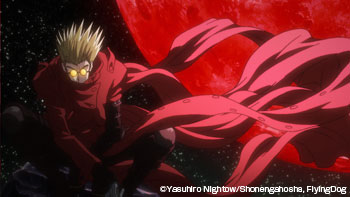 – ABOUT TRIGUN –
"TRIGUN" is a popular sci-fi action anime series with the original storyline created by Yasuhiro Naito. The setting takes place in a remote planet of the near future. It portrays the life and actions of a wanted man named Vash, an extreme pacifist by nature bizarrely nicknamed as the legendary "human typhoon" for his notoriety. Yasuhiro Naito's work was adapted into an animated TV series in 1998, and gained massive support throughout the world despite being aired at midnight. Fighting scenes filled with action and meticulous designing captivated the audience. Production was done by Madhouse, which also worked on NARUTO animated films, DEATH NOTE TV series, and SUMMER WARS.Story and designs have been renovated for this animated film, so that not only old fans, but people who haven't read the original manga or seen the animated TV series could enjoy the work.The animated film "TRIGUN Badlands Rumble" came to big screens on April 24th 2010 in Japan, and became a long run hit movie of over 5 months. "TRIGUN Badlands Rumble" was third on the Pia satisfaction ranking of movies released on April 24th 2010. Furthermore it was aired in events outside Japan, in countries such as the United States and Germany. "TRIGUN Badlands Rumble" captivated anime fans of the world and asserted its popularity and quality.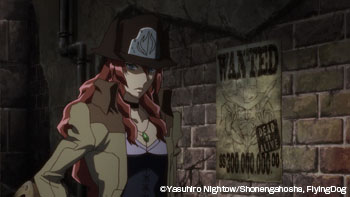 – ABOUT THE ORIGINAL COMIC –
Published from 1995 to 2007 in "Shonen Captain" and "Young King Ours" (serialized). Complete 14 issue set. Was given the Seiun award, the oldest sci-fi related award in Japan. The manga has been translated into English, French, German, Italian, Portuguese, and Spanish, making it widely read around the world. All 35,000 of the English translated version distributed in 2003 was sold out immediately, and in 2004 it achieved the position as the #1 best seller graphic novel.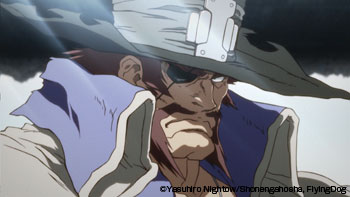 – ABOUT THE TV SERIES –
Broadcast on TV Tokyo in 1998, total of 26 episodes. Animated by Madhouse. In America, aired on Cartoon Network in 2003. The complete DVD box has a high rating of 4.5 (out of 5) in Amazon.com. (Number of Reviews: 224 as of April 5th 2011)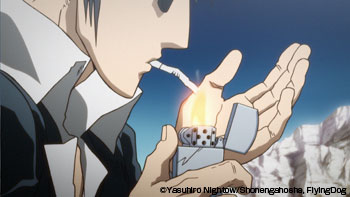 – ABOUT VOICE CAST –
Veteran voice actor Masaya Onozaka, who has starred in famous anime series such as "Pocket monster series", "BLEACH", and "Yu-gi-oh" will be dubbing for the main character Vash. Others include Susumu Hayami (in "BLEACH", "Mobile Suit Gundam"), Hiromi Tsuru ("Dragonball", "Ghost Sweeper Mikami"), Satsuki Yukino ("InuYasha", "Gintama"), Maaya Sakamoto ("Mobile Suit Gundam SEED DESTINY", "Evangelion2.0 You Can (Not) Advance").
– CREW LIST –
Director SATOSHI NISHIMURA
Screenplay YASUKO KOBAYASHI
Original Story SATOSHI NISHIMURA and YASUHIRO NIGHTOW
Original Creator YASUHIRO NIGHTOW
Character Designer TAKAHIRO YOSHIMATSU
Art Director MINORU AKIBA
Chief Animation Director TAKAHIRO YOSHIMATSU and KYOUKO TAKEUCHI
Mechanical Designer NORIYUKI JINGUJI
Sound Director YASUNORI HONDA
CGI Director EIJI INOMOTO
Cinematography SHINICHI IGARASHI
– DIRECTOR BIO –
Satoshi Nishimura
Satoshi Nishimura has worked for many years as an animator on several anime series providing key animation and story board work, including: BLACK LAGOON, REVOLUTIONARY GIRL UTENA, MOBILE SUIT GUNDAM SEED, MASHIN EIYUUDEN WATARU, FUTURE GPX CYBER FORMULA, CARD CAPTOR SAKURA, DRAGON BALL Z MOVIE 1, PARADISE KISS, NOIR, GUNGRAVE and more. Now he has become a director with several equally notable titles to his credit, including TRIGUN and HAJIME NO IPPO. Mr. Nishimura's latest title is TRIGUN BADLANDS RUMBLE.
– VOICE CAST CREDIT –
Japanese Voice Credits
Hiromi Tsuru as MERYL STRYFE
Masaya Onosake as VASH THE STAMPEDE
Satsuki Yukino as MILLY THOMPSON
Sho Havami as NICHOLAS D. WOLFWOOD
Maaya Sakamoto as AMELIA
Tsutomu Isobe as GASBACK
English Voice Credits
Luci Christian as MERYL STRYFE
Johnny Yong Bosch as VASH THE STAMPEDE
Trina Nishimura as MILLY THOMPSON
Brad Hawkins as NICHOLAS D. WOLFWOOD
Colleen Clinkenbeard as AMELIA
John Swasey as GASBACK
RELEASE DATE: June, 2011 in Canada / July, 2011 in US
RUNNING TIME: 90min
LANGUAGE: Japanese with English subtitles or English dub
FORMAT: HDCAM, Digibeta, BluRay
OFFICIAL SITE: http://www.funimation.com/trigun
OFFICIAL FACEBOOK: http://www.facebook.com/pages/Trigun-Badlands-Rumble/137426256330652
OFFICIAL TWITTER: http://twitter.com/#!/Trigun_Official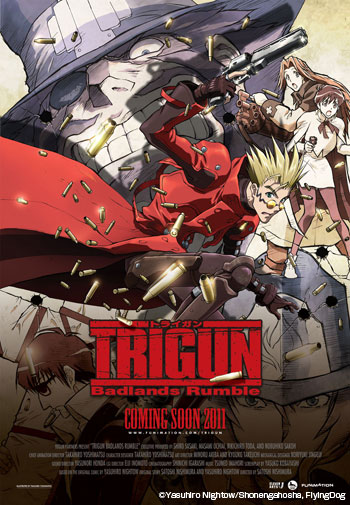 (Press / ELEVEN ARTS, FUNIMATION)