On Monday July 3, Hey! Say! JUMP member and actor Ryosuke Yamada, joined by award-winning director Fumihiko Sori, received warm welcome by American fans and audience at the packed Main Events hall of Anime Expo 2017. As the special guests for the Fullmetal Alchemist Live-Action Movie panel, both Yamada and Sori shared with enthusiastic AX attendees their thoughts and stories during the filming, followed by a premiere showcase of the movie footage and a Q&A session with fans.
A press interview session with both the lead actor and director was conducted after the panel wrapped up, attracting press outlets from both US and overseas. More detailed questions about the film were answered during the session, from the similarities between the actor and his role Edward, to the reason why Director Sori decided to adapt Fullmetal Alchemist into a live-action film. The Fullmetal Alchemist live-action movie is slated to open in Japan on December 1st. Before we get more information on whether or when its theatrical release will happen in the states, check out the full press interview below for some hints of the film!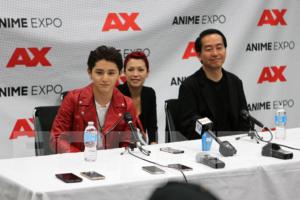 Q: (For Yamada) Which was the scene that you put the most effort in?
Y: Obviously I put a lot of work into every scene, but especially the scene where Edward was fighting with Alphonse. Both the staff and I put lots of work in it, and I think the finished footage looks really cool.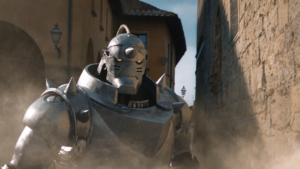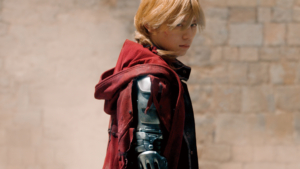 Q: (For Sori) What is the biggest challenge during the creation of a live-action film with 3D animation?
S: The quality of visual effects are getting much better in Japan recently, but the most important part of creating a film with such effects is acting and connecting the computer graphics and animation with the live actors. Especially when filming the scenes with Alphonse, we had an actual person there in the place of Alphonse, so that the actor of Ed could connect with him and those scenes are full of real emotions.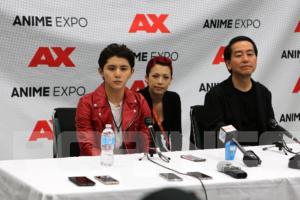 Q: (For Sori) Do you think live-action production offer something different than animation? And what would that be?
S: Probably the most important difference between a live-action film and animation is that for the live version the audience could feel more and deeper human connection rather than the fictional animation. With live-action, just by the little looks and little expressions, you can express more emotions and details compared to the flatness of animation.
Q: (For Yamada) What are some of the similarities between you and your character Edward?
Y: There are so many similarities between me and Ed actually. It's so hard to find what's not similar between us. Especially our height, how short we are. Although in Japan people tend to think that I am quiet and shy judging from my slightly androgynous appearance, I'm actually very outgoing and manly, and I find that very similar to Ed too.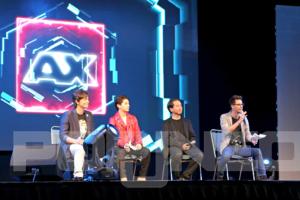 Q: (For Yamada) If not Ed, which character in Fullmetal Alchemist has the most similar personality to you personally?
Y: I'm not saying that I relate to Ed the most just because I'm playing him. But I do think I share the most similarities with Ed among all the characters.
Q: (For Yamada) Since you are so similar with Ed, how did you get into the mindset of portraying the character who has experienced so much tragedy and who is dedicating his life to bringing back his brother's body?
Y: For preparation I read lots of the original manga and watched the anime, but I was also able to take on the role at the set and let it come to me, just by feeling the atmosphere that the set and the team created together.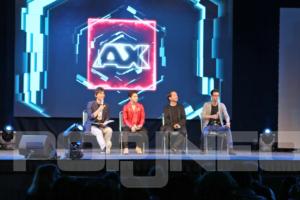 Q: (For Sori) What are some of the differences between adapting straight from a manga where there is no anime adaptation, such as Ping Pong, versus adapting something like Fullmetal Alchemist where is a huge screen adaptation already?
S: There is not too much difference between adapting Ping Pong and Fullmetal Alchemist. Since both of them had such fantastic stories, I am using CG effects just to present a better production work. There is really no difference between them because I was adapting a great story into a film for both works.
Q: (For Yamada) You are a singer, actor and also an idol. How do you balance these three jobs and would you take more acting work in the future?
Y: There are different components when it comes to being part of an idol group and being an actor. And there are different things I have to be careful of. As an idol I have to make sure to emphasize myself all the time, while as an actor, there are times when I have to blend with other characters and efface myself. But I do want to continue pursuing everything in all facets. I am grateful that I have 9 group members so I will see how I can balance out to do the things I want.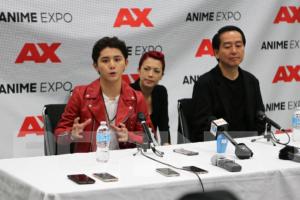 Q: (For Both) Both of you are award-winning artists and performers. How did you manage to express yourselves artistically within a live-adaptation of manga and anime?
Y: Through this I was able to really express myself fully. I even got to know a part of myself through this that I didn't even know existed, which was truly a precious discovery for myself and the happiest moment for me during my acting career. I hope the audience could get to know this part of me through this film as well.
S: I am a big fan of action scenes and visual effects but a film full of these two components only is not what I am looking for. I always seek to incorporate the beautiful story and human emotions in my film. It's very important to balance action, visual effects with human acting and interactions. I always wanted to make a film with a perfect balance between these three and I feel like through this film we were able to achieve it by paying attention to the action, visual effects and the connection between the characters.
Q: (For Yamada) Are there any rituals that you do when you prepare to get into a character?
Y: Especially for characters that are a little dark and sad, I'll go to a corner or somewhere there is no people, stay there for a little while to detach myself and come back to the scene later. That is what I did for scenes where I have to cry in Fullmetal Alchemist.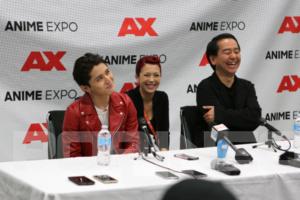 Q: (For Sori) Fullmetal Alchemist has been a timeless story appreciated by fans all around the world. Why do you think it's so popular today and so many people can relate to it? And is that why you decided to work on this project?
S: The first thing is that I wanted to make this film because it's loved by so many people. Secondly, since this anime is not just a regular anime but it has so much philosophy behind it, I wanted to make a live-action adaption to show its greatness and deepness to more people who are not fans of the original manga or anime. It's definitely a good material for live-adaptation not only for fans of this title but for every audience in general.
Q: (For Yamada) You have so many fans not only in Japan but also internationally. I tweeted about the Fullmetal Alchemist panel and my twitter just blew up. How do you feel about having so many fans all across the globe?
Y: I'm simply feeling very very happy and excited. (laughs) I've toured Asia for live concerts and TV drama shooting, but appearing at an event like this in America is my first time. This experience is definitely a great motivation for me. Hearing what you just said made me really happy.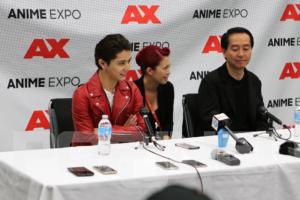 Q: (For Yamada) What are some of the differences between shooting in Europe and Japan?
Y: In Japan, it isn't unusual to shoot all day, from morning until night; while in Europe and also here in the US, it is not that way and the staff was surprised to see that as well.
Q: (For Yamada) The Fullmetal Alchemist live-action film has been receiving so much attention all around the world. I was wondering if you think that's because of the popularity of the title itself or it's because of the popularity of you as the lead actor?
Y: I definitely believe it's because of the great popularity of Fullmetal Alchemist. It'll be wonderful if I can ride the wave on it. (laughs)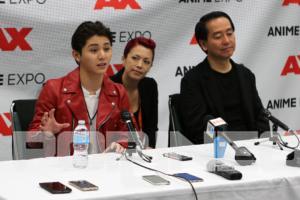 Q: (For Sori) Since you said you really want to be accurate to the original story of the manga and anime, how did you incorporate your own style to make this film your film?
S: Just as I mentioned before, for me it's all about balance. To balance the visual effects along with the emotions is very very important to me. This is my own style, but it happens to be the style of the original manga/anime as well. So I think it's a very good coincidence and combination for me to work on this film.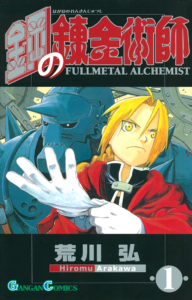 Q: (For Both) Can both of you share with us some of the most memorable moments during the filming?
Y: There is not just only one thing per se. The director looks very kind, but he doesn't really give up on anything. (laughs) He likes to have it in a certain way. I had to go on and on shooting the same scene until the director was satisfied.
S: There was a scene where he (Ryosuke Yamada) had to jump from a place higher than a regular room ceiling. He had to have a running start and jump off. Even the stunt guy did it first and it was not so easy for him. We asked Yamada if he needed practice and he said: "No thanks, I'm okay". So he just ran for 25 meters and jumped. It was perfect and it was just one shot. Tom Cruise could have been scared to do that. (laughs)
---
Fullmetal Alchemist Live-Action Official Trailer:
---
Posted by Melissa
Edited by Megumi
Event Photos by Kyoichi